Why Retail Software Development Solutions Are Beneficial to Businesses
Software in the retail industry has existed since the dawn of commerce and has grown in tandem with technological advancements to become what we see today. Various software aids in continuous improvement and allows retail to expand their companies while being cost-effective.
There are various advantages to employing retail business software solutions in the short and long term. Retail organizations will realize higher efficiency, increased productivity, cheaper costs, and overall growth by utilizing these IT solutions from 2023 onwards.
Please continue reading to learn about some significant advantages shops will enjoy as they use this software more creatively than ever before.
Digital Transformation – Top Benefits of Retail Software Solutions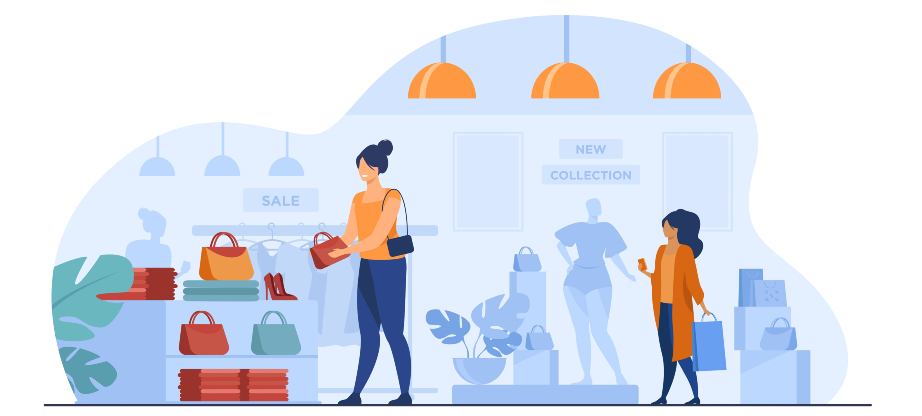 Time is Money
Time is one of the most valuable commodities in the retail industry. Business leaders must be able to move fast and efficiently.
Retail software development Solutions can assist you in automating operations and providing real-time information about your firm.
Increase Sales
A retail software system can enhance sales by improving sales and automating inventory management, customer relationship management, and accounting processes.
A retail software system can help you understand your consumers' purchasing behavior and preferences.
Furthermore, by decreasing manual work and enhancing productivity, a retail software solution may help you save time and money.
Manage Resources Efficiently
Managing resources efficiently is key to success in the retail business. Retail software solutions may assist you in automating activities, tracking inventory, and analyzing data to make better decisions.
Collect Customer Feedback
Consider a few things before integrating retail sector software solutions into your company.
First and foremost, you must guarantee that the software you select will benefit your company. Collect feedback from customers and staff to learn what they think about your business's present status and where the industry might make essential changes.
Multiple Store Support
If you plan to operate many locations, retail sector software solutions can help you manage your inventory and sales from a central place. You may save time and money by eliminating the need to manually update each store's inventory. In addition, retail sector software solutions may help you track sales data throughout your outlets, which can assist in discovering patterns.
Increase Order Accuracy
Increasing order accuracy is one of the primary advantages of retail business software systems. Businesses may use these solutions to keep track of inventory levels and guarantee they are always accurate. This may save organizations time and money and reduce consumer irritation.
Improved Inventory Control
One of the critical benefits that retail business software solutions is better inventory control when you can prevent overstocking or running out of popular items with precise and up-to-date information on what products are selling and at what pace. This can save your business time and money.
Another related benefit is the ability to track trends. Knowing which things sell well (and which do not) might help you select what to stock in the future.
Connect to Social Media Platforms
Businesses in the retail industry must interact with social media platforms to remain competitive. They will be able to communicate with their clients, provide customer support, and market their products and services.
Businesses may also collect data about their clients and utilize it to better their marketing methods. Social media integration will also help organizations save time and money by automating some operations.
Staff Training Has Been Improved
Retailers must be able to train their employees promptly and efficiently. Retail business software solutions can help by delivering training courses that staff members can do quickly. This technology may measure employee growth and guarantee they achieve performance requirements.
Refunds and Returns Have Been Reduced
With the use of retail sector software solutions, firms may minimize the number of returns and refunds they process. This is because the software will be able to track consumer purchases and spot trends that may signal a return or refund. Businesses may save time and money by being proactive and utilizing these software solutions.
Retail Software Development Solutions
Today, businesses are searching for retail software development partners that can not only design the end product to your specific needs but also scale it based on the size of your business: online marketplaces, mid-sized and big corporate e-commerce enterprises or small retail shops and startups. There are several causes for this.
Integrated ERP & MRP solutions enable buying, operational supervision, franchising, and warehouse management.
Back office software includes inventory management, warehouse management, and other features.
Point-of-sale (POS) applications include cash register software that integrates with payment systems such as cheques, bank cards, and mobile payments.
Large-scale enterprises can benefit from wholesale software solutions.
Optimization solutions that uncover sales development prospects, such as marketing planning and promotion management, are available.
Monitoring the whole life cycle, including supplier management, product analysis, and quality control.
Logistics software solutions that are connected with delivery company APIs, such as USPS, UPS, and FedEx.
Customer-focused goods, such as loyalty programs, tracking systems, customer account management, and rewards systems.
Technologies Required for Retail Software Projects
If you intend to engage a retail or professional software development business, you should know a few key points.
To begin, you should thoroughly understand the standard tech stack in this field of software development. Today, technologies utilized for retail software development include PHP, Javascript, Ruby, React, and Node JS.
Conclusion
The retail business is constantly under pressure to innovate and keep ahead of the competition. To do this, merchants must rely on retail sector software solutions that may assist them in automating their procedures and tracking their data. By implementing these solutions, retailers may enhance customer service, increase efficiency, and make better business decisions.