WFH Trends Shaping The Future Of Businesses
Work from the home landscape has now shifted to a "work-from-home" economy and is likely to continue for a while now. As reported by global workplace analytics, 56% of the U.S. workforce holds a partially related job to remote work. The future of the workforce is interdependent on the efficiency and productivity of remote workers. Marketers are leaving no stone unturned to guide their team and their security. With these new alterations come new WFH trends, so let's deep dive right into the work-from-home trends in 2021.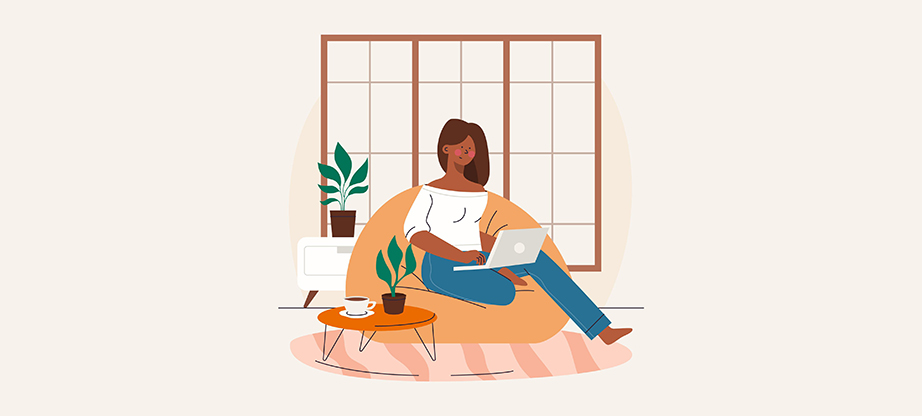 WFH Trends To Stay In 2021
Your email personalization, new IP warming techniques, or unique campaign strategy will have zero impact if your remote team is not in sync with each other. Covid-19 has a snowball effect on every aspect of your business, and that's the reason why these new WFH trends can shape the future of your remote team.
1. Hybrid Models
A hybrid model is a path to make remote work more sustainable and introduce more freedom around when to work or where to work for your teammates. It is an amalgamation of both remote working and in-house working space. People are now more comfortable working from their homes in a comfy environment for more productive work. The hybrid model allows remote employees to be flexible, work without any constraints.
An organization with a hybrid model may have one or more offices in different places.  This means they can allow a few portions of their workforce to work remotely and another few from the office. It differs from organization to organization. As per Glassdoor research, 86% of workers say they would like to continue working from home, even after offices reopen. A hybrid environment helps employees to choose their own space and collaborate on that basis. It prioritizes your employee needs, eases work-related anxiety among employees.
2. Productivity Tools
No wonder there are thousands of benefits of working from home, but there are unlimited distractions also. To make sure that your employees are as productive as they should be—make full use of productivity tools. Here are a few reasons why your team should opt for productivity tools.
Tools like slack and Zapier reduce workload, help you to slow down, and track your employees effectively.
As remote workers, you can create a work-from-home yet cooperative environment for a better work ethic.
You can also define your team's goals and weekly KPIs with the help of these tools.
These productivity tools work best in maintaining a balance in employees' personal and professional life. Tools like Intercom and Trello encourage you to assign tasks and ensure everyone is on the same page.
3. Asynchronous Communication
In the modern workplace, real-time communication is going down in flames. It's not because of your unavailability or your employee's dynamic nature; instead, it's the time lag between a sender and a receipt. This pandemic has made us realize that not all human beings are optimal to use their 24 hours. It allows work from home employees to complete tasks at their own suitable time. No wonder your employees need to produce high-quality work.
Now think about this: when we converse virtually or in person, we tend to miss out on various things. This is where documenting works like magic. If you can document your conversation and provide feedback to the receipt, tasks can be administered well. People can listen and perform with a good level of communication from both ends. Here are some of the best asynchronous practices for your team:
Get on the same page with your employees
It's good to empower your employees instead of judging them for their work style, hours, or completion techniques. Define your expectations but don't project that onto them. It's good to make things clear and respond to the requests of your team.
Always look for ways where there is mutual collaboration at the same time. Schedule meetings and zoom calls that can be easy for everyone to attend. This shows that you encourage your employees to show how they feel about setting their timelines and deadlines for different tasks and meetings.
4. WFH Trends – Cybersecurity
Forbes suggests that 68% of respondents do not feel safe at their workstation, and 23% working remotely indicate that they would prefer to look for a new job with high job security measures.  Cybercrime is not a new term, but today, every business is riding through these uncertainty waves with the help of the Internet. In light of these increasing risks, businesses take first-hand protocols for their in-house teams and remote workers, most notably remote workers. Pay attention to suspicious third-party emails, requests, or even calls. Most often than not, they are looking for your personal data and info. It's best to ensure that you and your teammates have access to the right security tools and passwords. While working from home can feel more casual, it's best to make your employees aware of these cyber threats.
5. Emotional Intelligence
EI is essential for remote workers. We all are emotional animals, and times are hard. It's hard to ask for help, and maybe your employees are having a hard time reaching out to you. But the fact that it can be taught and practiced is also excellent. The existing problems with traditional workplaces are now fully transitioned into remote and virtual issues. People are going through issues but now at some distance.
To practice emotional intelligence, share your story first as a leader so that you can inspire others to put their most vulnerable side. Ensure them that we are all fighting some or other kind of battle. Managers can proactively reach out to employees, or they can also show up in times of need. All in all, it's crucial to practice EI like a muscle with your remote team because they need it. Here are a few steps you can take to improve your employee's emotional intelligence:
Have face-to-face interactions, maintain a sort of connection for a sense of belonging.
Share stories and experiences on a conference call more than products and strategies.
Have something in common to share? Maybe your employees have a sick mother at home, talk about that, ask questions with empathy, and listen; that's what matters the most.
Feel and show empathy in times of tragedy or loss.
6. Increasing 5G Usage
As per HBR, nearly 2,000 technology and business executives revealed deep uncertainty about the upcoming 5G usage. Simply put, the new age 5G speed and connection is a promising trend for remote workers. Many businesses use it for high-speed connectivity, employee productivity, and a 24*7 customer satisfaction rate.
It enhances the work-from-home experience for your employees with exceptional AR functionality over an LTE connection. The results are extraordinary. With faster repair, fewer errors, your employees will become pro at managing their time. It works as an expert on-demand. Businesses are now fixated on the idea of a futuristic approach. Even in times of covid, ensure that you are not overlooking future WFH trends for your workforce. 5G connectivity improves your remote mobility operations and helps you invest in the macro for a long-term benefit for your business.
Now people invest more time in high-quality and reliable connectivity. Regardless of the physical location, employees want an advanced environment that can benefit their organization and themselves.
7. Rise of Cloud Working
Cloud-based working is an aid to any kind of disaster or forthcoming problem. Working from home is ain't easy. Whether it's sharing files access or any updates with your employees, it's hard to catch up with every process.
The bottom line is the cloud system bridges all the gaps between assigning tasks, scheduling new calls, and communicating effectively across your team. In short, the advantages of cloud computing are endless: its cost savings, security, flexibility, and it provides a competitive edge above your competitors, and it is sustainable. And so many tech-savvy businesses and industry leaders are recognizing the benefits of the cloud-computing trend and are upgrading their remote workstations.
8. Embracing the New Company Culture
Businesses are embracing the new version of company cultures. Marketers are becoming more efficient and organized due to remote working and this seamless transition. It's good that companies have now accepted the long-term benefits of work from home and remote working. So many tech giants like Microsoft and Amazon are following the suit. Organizations are now prioritizing their employee experience and mental health. With proper wifi connections and comfortable workplaces, remote workers are more productive and efficient.
WFH Trends – Conclusion
Times are tough, and your team needs you through thick and thin. These work-from-home trends are inclined more towards reaching out to people. There are many ways to improve efficiency for your business, and it can start with professional or emotional help in times of need. A good business owner will prioritize its employee's needs and wants for professional and team success. Remember, it's a team effort, not an individual hustle.