Top 10 Technology Trends Expected To Boom in 2015
Recently, Hospitality Technology has conducted a study, which revealed that mobile websites and mobile applications are the most admired developments that will only continue to boom the industry and other business in the future.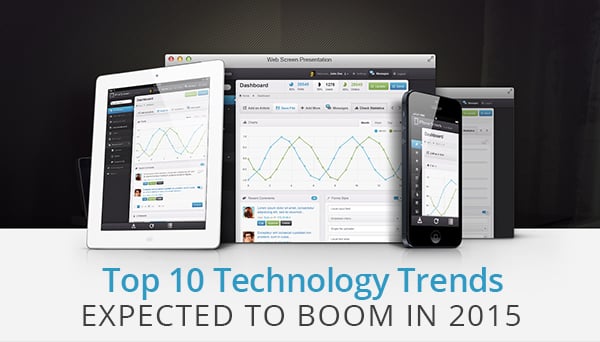 With the advent of Smartphones and other handy mobile gadgets, many businesses have observed that their products are more often accessed by mobile users rather than by desktop users. The incredible benefits of mobile devices (like on-the-go access, handy, fast and convenient) have encouraged users across the globe to move to mobile devices. Hence, no matter what kind of business you posses, mobile presence has become extremely crucial to reach a wider audience base. This is the reason of a rapidly increasing demand for mobile development that will continue to be in the trend in 2015 as well.
When we talk about mobile development, we are precisely considering two different technologies, namely,
Mobile web development;
Mobile application development.
Both of them exhibit a tremendous scope in the future. Let's shed the light on the most expected technology trends for both the fields in 2015 and beyond.
Mobile Web Development Trends That You Will Witness In 2015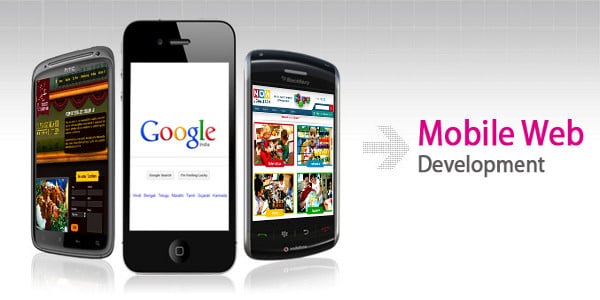 While talking about web development, one of the most imperative thing is the web design trends.
1. Go Responsive: There are truckloads of mobile devices including Smartphones, tablets, wearables that feature distinct screen size, and display quality. So, to ensure a balanced and superlative performance over the diversified screen types, responsiveness is a must. You will see more responsive mobile website in the future.
2. Appear more like mobile apps: The amazing mobile app experience is not only enticing and intriguing, but it is more engaging as well. The businesses are required to follow the "mobile first" approach to ensure a satisfactory experience to a whopping number of mobile users.
3. Rise in API-Driven Web App Development: The key component of web apps is RESTful APIs, they can be used for developing both mobile and web apps. Most importantly today, Mobile Backend as a Service (MBaaS) is gaining amazing popularity among web developers. It offers RESTful APIs, native mobile SDKs, JavaScript SDKs and more to ensure smooth and effective web development. The resourceful features of MBaaS services will make it a viable choice for most of the web developers.
4. Ghost Buttons: The Ghost buttons offer a fabulous solution to create a minimalist and elegant visual appeal to a website. It is a UI design feature that smartly blends into the included exquisite backgrounds. Indubitably, you will witness more of them in the web designs throughout 2015.
5. Infographics: Reading a huge chunk of text is often not a preferable option for mobile users. And this is where infographics come into fashion. They epitomize the content in an innovative and interesting fashion, and allows readers to fetch the information at a glance. Its usage will definitely increase in the near future.
Mobile App Development Trends That You Will Witness In 2015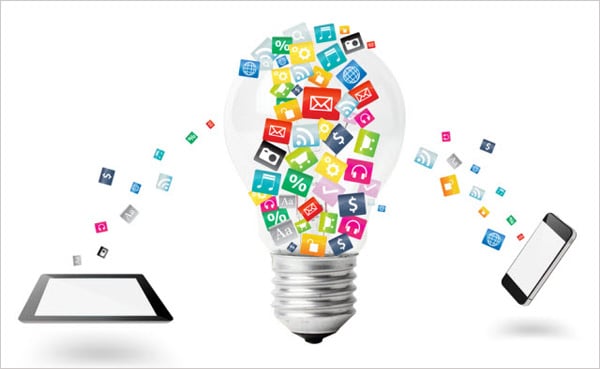 Observing the current user behavior and advancement in mobile technology, here are some most anticipated mobile trends that will most probably hit the charts in 2015.
1. Cloud application will be in demand: By studying the Google trends, it can be observed that the cloud applications are getting more popular day-by-day. They have offered great benefits to the businesses on different domains. The cloud applications can also be considered as the hybrid between traditional web apps and desktop apps; because, they offer the worthy merits of both the aforementioned approaches, while keeping their demerits at bay.
2. Android will be on the top of the charts: If you will consider the stats and numbers available on the Internet, it can be observed that though the Android global market share is around 70%, but iOS is able to generate greater revenue comparatively. However now since, Google has been making strives to move the functionality into the Google Play services, outside the core operating system, to facilitate developers to work without feeling restricted with the OS version. It is thus expected to break the revenue records of iOS and hit the market with its wonderful offerings.
3. Smartly play with the blissful "Internet of Things": Today, there is a plethora of household appliances and gaming consoles (or devices like Samsung Washing Machine, Smart TV, Nest smoke detector, etc.) that can be controlled via a Smartphone app or a smart mobile device, when connected through Wi-Fi or some other means. This factor is also contributing greatly to the rapidly increasing fan following of mobile devices like wearables and Smartphones. The demand of such resourceful latest technology will surely accentuate in the future.
4. More fingerprints and retina scan passwords: There is no doubt that fingerprints and retina scan like features will make the product more secure and safe. Moreover, it is hard to remember the pin numbers and passwords, fortunately technology has provided an astounding solution with more secure and handy passwords. In 2015, you will see apps developed to support more biometrics.
5. Consequence of Artificial Intelligence: We are currently living in the pre-artificial Intelligence age, and the consequence of AI over mobile development can be easily observed. Fitness apps like Fitbit is a great example of this fact, and it is just the beginning, you will embrace smarter apps throughout 2015 that will actually think of you as an associate.
Final Thought
The technology is growing at superb pace and it will definitely deliver a superlative user experience with its future offerings. You can contribute to mobile web development or mobile app development and reap the useful benefits of the rapidly flourishing technology. However, it is advisable to keep the latest technology trends in mind while developing your product.