How To Prep Your SEO Strategy For A New Website
You have finally done it! After months of planning, discussion, and crumpled-up paper, you have finally launched your brand new website. What's now? After creating and launching a new website, most people don't know what to do next. They simply wait…and wait for visitors to flood their website. As if that is going to happen! The type of website you have launched is not unique. Just search it online, and you will find that there are hundreds of websites similar to your industry, offering the same. In that case, how will your new website be introduced in the market? This is where you need Search Engine Optimization (SEO). Search engine optimization works on different algorithms and practices that help your website rank higher. We have created this guide because most people are unaware of the right SEO practices for a brand-new website. Here, we will share the most popular SEO strategy used by professionals to make new websites perform on SERP.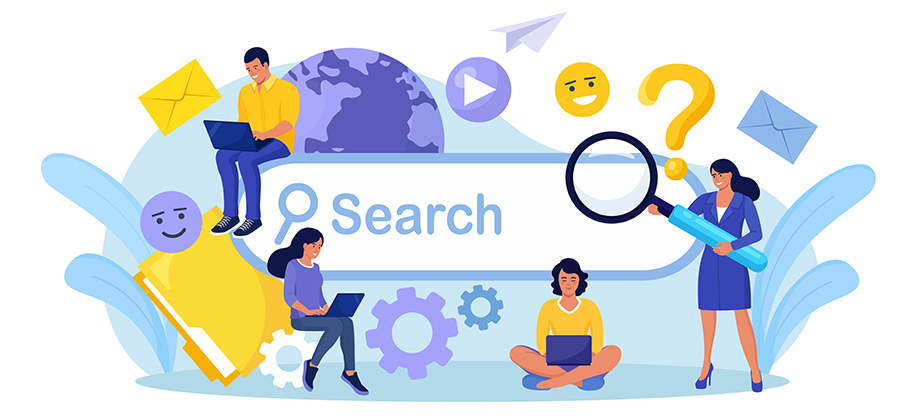 Start Your SEO Adventure
Below we have gathered the most trusted SEO strategies that will help you establish yourself as a credible entity online. It further helps your website become more visible in the depth of the internet and more user-friendly. You must understand that a website is an online storefront. It is the primary point of contact with customers in the modern business world. But, unlike your store's physical location, a website's location isn't permanent. The more you SEO optimize your article, the better it will perform on SERP.
1. Choose An Effective Domain Name
Your domain is important. It needs to be aligned with your brand's name and what kind of products and services you offer. Having a domain name that can define these three things helps your brand project itself with the right message in front of your target audience. In addition to your domain name related to your brand and website, it needs to be simple enough that your audiences can easily remember it.
A domain name is also a ranking factor. Search engine crawlers discern the domain to know more about the webpage and businesses. Ideally, your domain name needs to have the primary keyword for which you want your website to rank. Finally, your domain name needs to be unique. If it is related to or close to a domain that already exists, your customers will confuse your domain name with your competitors.
2. Outline Your Site Structure
For search engines to know what is on your website and what kind of content you have published, they need to crawl your website thoroughly. Only after the crawlers have scanned your website can your web pages can be indexed. But without the right road map for the crawlers to scan your website, they mind find it hard to navigate themselves from one page to another. The best way to ensure they are following the right path and scanning the website on the right is to allow them access to the site structure.
Site structure is a skeleton or a site map for the website that connects the web pages in the order they need to be crawled. This gives the website owner an advantage point where they can only ask the crawler to scan only the most important web pages on your website.
3. Create Content Before Launching The Website
Do not launch an empty shell. Even if we perform online, your visitors will be disappointed as there will be nothing for the visitors. Before you launch your website, it is important that you SEO Optimize all the web pages on the website. This web page might include the Homepage, Contact Us, About Us, Blog page, and other permanent pages where content will frequently change.
Once you have prepared these web pages, publish high-quality content for the readers and visitors. This will serve them as something when they visit your website. The content you publish on your website needs to be written well with the right keyword. For that, you need to go do thorough keyword research. Invest some of your time in finding the relevant keywords for creating content.
4. Prioritize On-Site And Off-Site SEO Strategy
The site is designed with SEO in mind. So you cannot just think that writing great content will complete all your effort. Of course, content is important, but with high-quality content, you must also prioritize on-page, off-page, and technical SEO of the website. Every page you create on your website needs to be created with an eye for all three pillars of SEO. your on-page SEO checklist should include the following –
Relevant keywords.
Adding title tags.
Writing a strong meta description.
Inbound links.
Outbound links.
Social media sharing buttons.
Your off-page SEO is all about sharing your content on different digital channels. This might include creating backlinks, sharing the content on social media, and engaging in community sites and online forums.
Once these on-page and off-page SEO are taken care of, you need to concentrate on technical SEO. Technical SEO is all about maintaining your website health and ensuring there are no errors in your website design.
5. Learn About Tracking And Analytics
Finally, you have prepared your website for the launch. But, you are still not allowed to launch. Before you can launch the website, you need a way to track your website's performance. If you don't have a way to do it, you will never know whether or not your efforts on the site bear any fruits.
Before you launch your website, get basic handle analytic tools. Create an account in Google Analytics and add your website. This will help you track every movement of your website and visitors visiting your website.
With all the information you will get from the analytic tool, you will have an idea of what your customers like and dislike about your websites.
Launch Your New Website Today – SEO Strategy
SEO is a vast and complicated field that needs work every day. If you stop your learning even for one day, you will find yourself lagging behind in the market. When you are starting to learn SEO for a new website, it will feel like a daunting task. Fortunately, you don't have to be an SEO expert to implement the SEO strategy described above. In the era we live in today, every individual must have a basic idea of what SEO is and how it performs. If you are falling behind the crowd with the trend, you will soon be out of the market.