Jasper.ai Vs. Paraphrasingtool.ai – Differences, Working, Comparison & Review
Jasper.ai is sweeping the town, while Paraphrasingtool.ai is the primary option for many writers. So, let's put them against one another. You will find many informative articles testifying to the importance of paraphrasing and the role of AI in creating content. That's why developers work day and night to come up with tools that help writers achieve such feats. Two of such major tools today are Paraphrasingtool.ai and Jasper.ai tools. Both these programs arrived on the scene not too long ago. However, their growing popularity among writers should tell you why they are viable.
While one offers absolutely free usage, the other is a paid program. So, which one of these popular tools bodes well? In order to find that out, we'll be testing them to the free extent that they allow us. So, let's begin.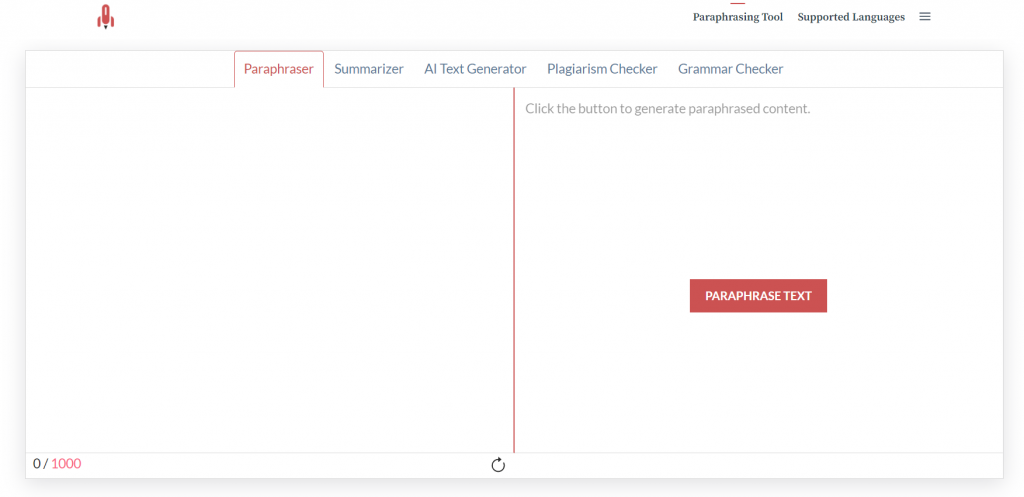 Paraprhrasingtool.ai is one of the leading paraphrasing tools today. It became one of the top names because of its extensive usage of AI and its various algorithms. Furthermore, the tool provides various other options to the writers. These factors add up and make it one of the critical solutions that writers can use today. Since it offers other tools such as:
Summarizer to shorten the text
Plagiarism checker to avoid it
Grammar checker for text integrity
Paraphraser for improved content
As you can notice, it covers a vast array of writing-related elements. Which makes it one of the most complete tools available today.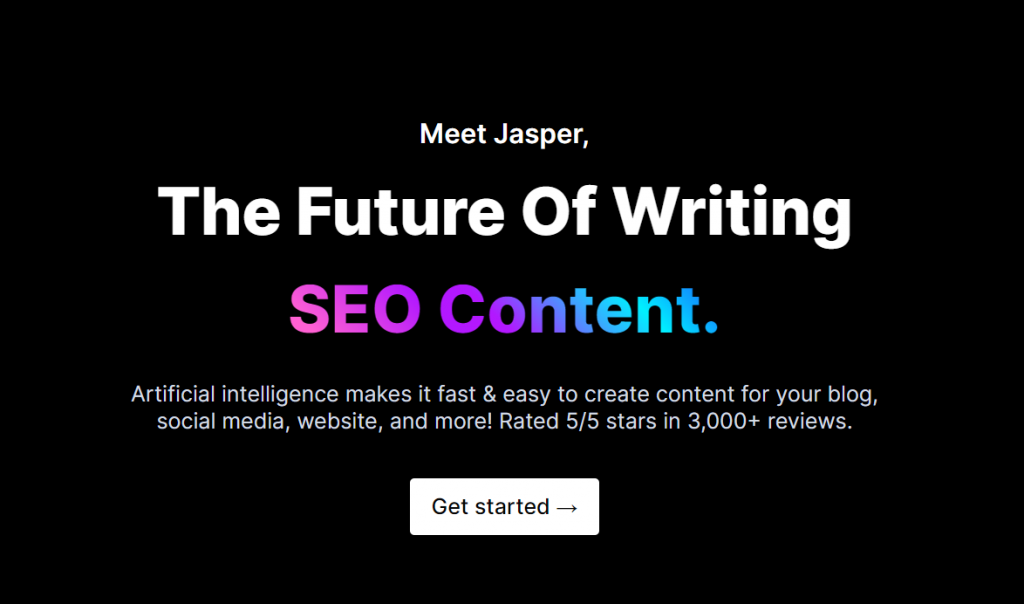 Jasper.ai sells itself as the "future of writing." While the tool doesn't do anything new, other spinners don't, such as Spinbot, etc., offer more content integrity. Since the tool itself is one of the leading writers' leading programs, it is becoming higher in Google ranks. It offers article rewriting, rephrasing, and spinning services, but for a small amount.
5 Ways Paraphrasingtool.ai Helps Writers
Paraphrasingtool.ai is an advanced tool by all rights. You shouldn't fall for its simplistic UI or the fact that it doesn't' give you a variety of confusing options. The best thing about this tool is that it keeps things simple without providing an abundance of unnecessary options. By keeping it simple, the tool helps many writers around the globe every day. Therefore, we decided to use its various options to see just how assisting writers are. So, let's begin:
1.  Find & Detect Plagiarism Easily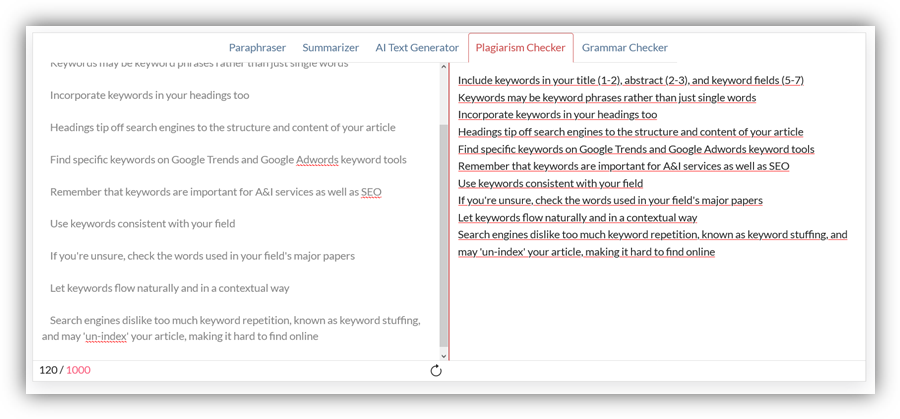 Plagiarism is one of the key problems that writers face today. In order to fix it, they go to extended lengths to ensure that their content is up to the mark. That's why it's imperative to find and fix plagiarism to avoid any mishaps. Paraphrasingtool.ai is one of the free plagiarism checkers in the online world today. So, let's see if it helps us find and detect plagiarism:
As you can see, the content marked in red is all plagiarism. While the lack of source URL might be a drawback for some, avoiding plagiarism is easy, as all you have to do is change it until the underlines turn green.
2.  Use AI-Text Generator To Break Shackles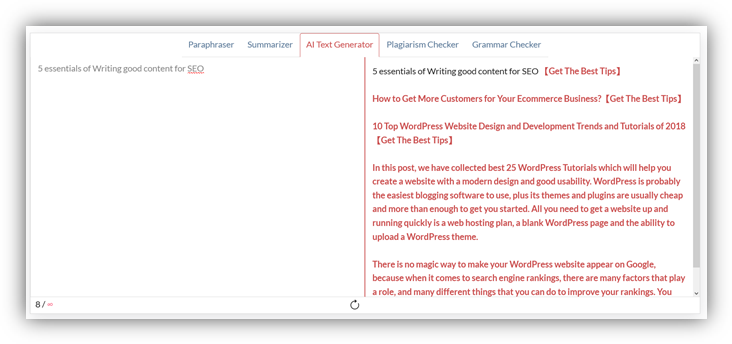 One of the major problems for writers today is writer's block. It happens when a writer runs out of ideas and is unable to continue after writing a word—or sometimes writing nothing at all. That's when Paraphrasingtool.ai goes one-up against other tool providers. So, let's see how it works:
As you can see, simply putting a headline/first line helped us generate an astounding amount of text. This would be enough to help a writer clear out of writer's block without any delays.
3.  Avoiding Grammatical Errors with Paraphrasingtool.ai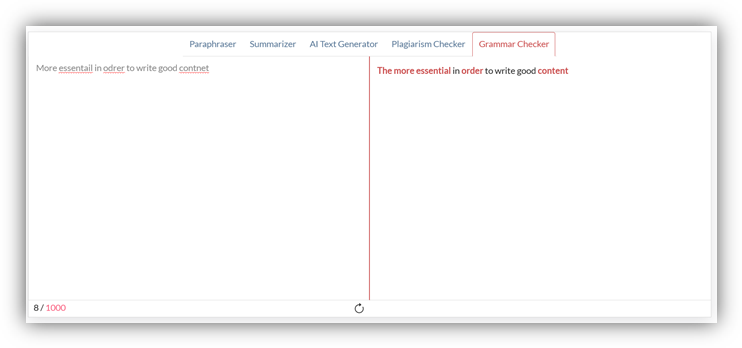 Grammatical errors are yet another problem that writers might face, and Parpahrasingtool.ai thoroughly keeps that in mind. That's why it has a separate grammar checker available for writers to use. While it makes correct mistakes if you paraphrase grammatically inaccurate content, the separation of this tool makes it more convenient. But is it effective at all? Let's try to use it:
The answer is yes; it is highly effective. The original sentence we used was ridden with problems. It has no punctuations, or spelling errors, and made no sense whatsoever. On the other hand, the improved content looks vastly better.
4.  Summarize Long-Form Texts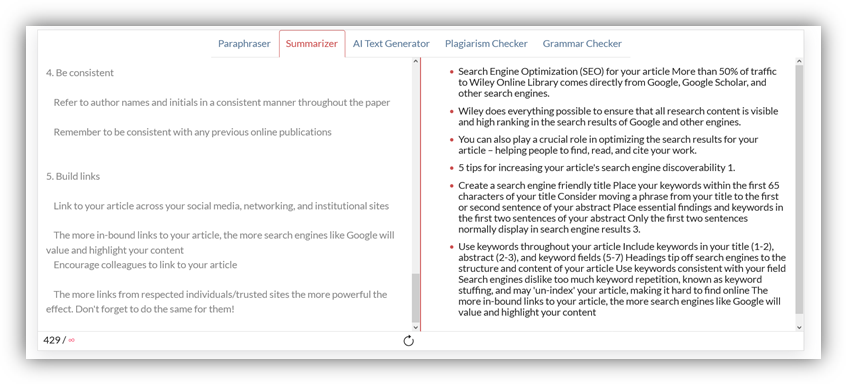 Summarizing text for academic or online usage has many benefits. It can add to your credibility as a writer and help you shorten long-form texts for other purposes. But, does Paraphrasingtool.ai's summarizer help you do all that? Let's find out:
Here you can see the long-form content has become a 430-word summary. Not only is it effective, but it's also highly efficient, as it took less than 5 seconds to achieve that.
5.  Paraphrase Your Content Into Something Extraordinary with Paraphrasingtool.ai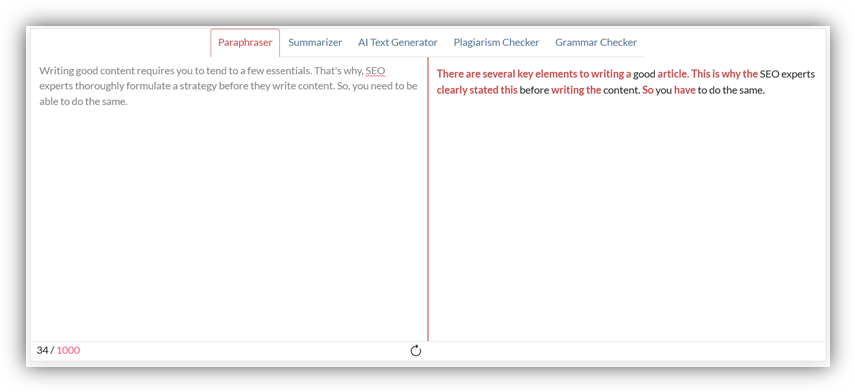 Paraphrasing is the primary offering of Paraphrasingtool.ai. It offers a to change your content tone, avoid plagiarism and make your content more than it is. So, here's an example of a passage with a few problems:
"Writing good content requires you to tend to a few essentials. That's why SEO experts thoroughly formulate a strategy before they write content. So, you need to be able to do the same."
Now, let's see if Paraphrasingtool.ai can fix it:
As you can see, the previous content, which wasn't even that problematic, has become something extraordinary within a few seconds.
How Jasper.ai Helps Writers Today
Jasper.ai doesn't even come close to the offers of Paraphrasingtool.ai. It does offer to write text from scratch, but will that be enough? Let's find out:
Generating Text From Scratch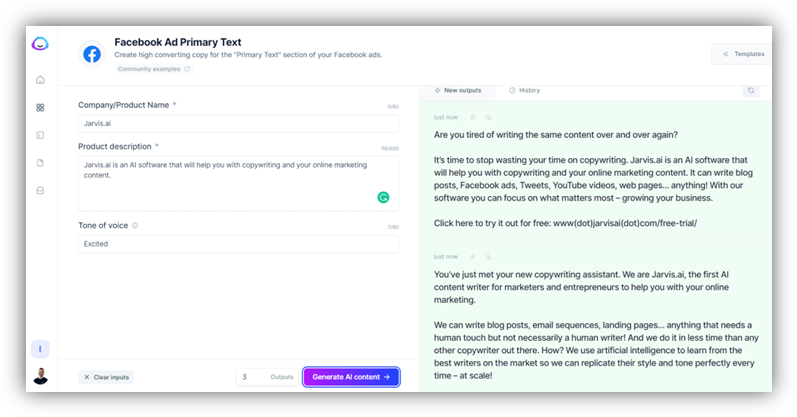 Signing up on Jasper.ai for free is a problem. So much that we couldn't get past the sign-up process, and it's one of the early drawbacks of this tool already. However, we did find this review from Imnights.com, which helped us understand a few things:
As you can see here, the AI text generator does help you write good content without any hassle. However, the one thing that Jasper.ai needs to fix is the sign-up process. Or provide a free-usage option.
Final Verdict – Paraphrasingtool.ai Leads The Way
Jasper.ai offered a bit of a problem right off the bat, as it didn't' let us sign-up to the point we had to use a third perspective to review it. On the other hand, we were able to use Parpahrasingtool.ai again and again without any trouble. So, the bottom line is, that Paraphrasingtool.ai is a better and more convenient option for writers today.