Interactivity in eLearning – How To Determine Which Level is Appropriate For Your Course
An eLearning course becomes powerful when the learner has high control over the learning content. It provides a higher retention of information and makes the learning experience very rich and rewarding. To make this possible, eLearning courses must include interactive elements. Interactivity in eLearning is a powerful way of ensuring learner engagement, but not all interactivity is the same. Typically, there are four levels of interactivity used as per the target audience and the nature of the content. What these levels determine is the extent of interchange possible between the learner and the eLearning course.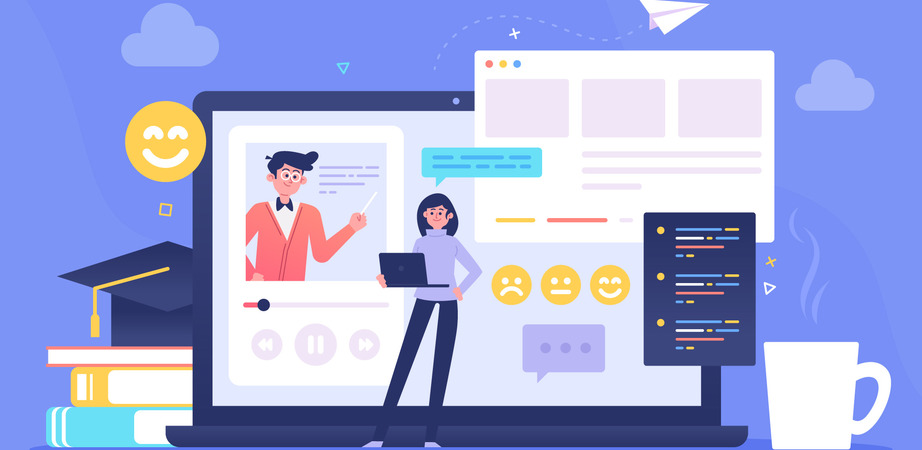 Interactivity is built in an eLearning course to ensure active learning with the help of various design elements. Modern Learning Management Systems come loaded with features to help you create exceptional digital training and collaboration experiences. Before choosing an LMS you can check its reviews to see what level of interactivity does it allow to instill in a course. For instance, Adobe Connect reviews show that it has a lot of interactivity features like polling, instant messaging, survey creation, and feedback collection. These features allow you to create a custom learning experience that is highly relevant and easily engages learners.
Let's look at the four levels that are defined by the extent of interactivity in an eLearning course.
Level 1: No Interaction
This passive eLearning interactivity level involves very basic, almost negligible interaction. This is clear and straightforward learning material based on content that is made up of simple images, audio, and video. It may include test questions, quizzes, or links to videos and popular blogs. 
This level of interactivity is ideal when you want to merely pass on information about simple concepts. For instance, a refresher course built to reinforce previously learned concepts is a level 1 interactivity with a concise recap of the important points.
Level 2: Limited Participation
This limited level of interactivity in eLearning gives more control to the learner as compared to level 1 but is still basic. The learner can get more involved with the course as there is a generous use of multimedia elements like animation, drag & drop interactions, and clickable tabs/images.
This level of interactivity is suitable when you want to provide employee performance or skill development training. For instance, product training courses with multiple-choice questions where employees need to learn all features of a new launch is a level 2 interactivity. 
Level 3: Moderate Interaction
This Moderate eLearning interactivity level allows learners to be actively involved in learning by providing complex and customized interactions. What makes these courses modern is the use of customized illustrations, animated videos, complex graphics, simulations, and branching scenarios. The use of drag and drop interactions along with multimedia is more liberal than level 2.
This level of interactivity is required when learners need to utilize their course knowledge for evaluating situations and taking appropriate decisions. For instance, a course to promote the utilization of problem-solving skills in work-life scenarios is a level 3 interactivity.
Level 4: Full Immersion
This full eLearning interactivity level is the highest level of interactivity that you can provide to guarantee a rich learning experience. The learner has full control over the pace and every aspect of the learning. The learning occurs in real-time with highly complex content like interactive games, high-end animations, AR/VR exercises, and high impact graphics.
This level of interactivity is incorporated to teach complex subjects where learners are required to tackle situations by applying their knowledge in their work. For instance, a social learning experience where learners have to go through scenario-based assessments after a virtual instructor-led training is a level 4 interactivity.
Interactivity in eLearning – Conclusion
We hope that the above-mentioned information has shed light on how to determine the interactivity level for your course. With so many appealing LMS options available with powerful authoring tools, creating a highly interactive eLearning course is now a piece of cake.