Influence of Pinterest Trends on Web Design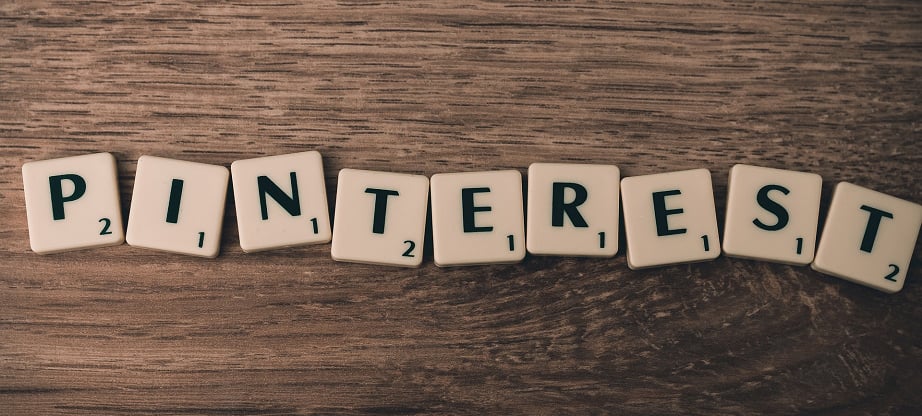 Pinterest is emerging as a star of social networking with 10 million monthly unique visitors. In a digital space where content is regarded as the king, this site has been able to garner a great army of fans with its image-centric, grid style layout. This startup entered the mainstream scene in 2011 since then it is enjoying a decent share of popularity.
Instead of focusing on content or words, Pinterest allows members to share their stories visually by pinning exciting photos on boards. Whether you are personally using this popular scrapbooking site or not, you must have noticed its unique design elements popping up everywhere.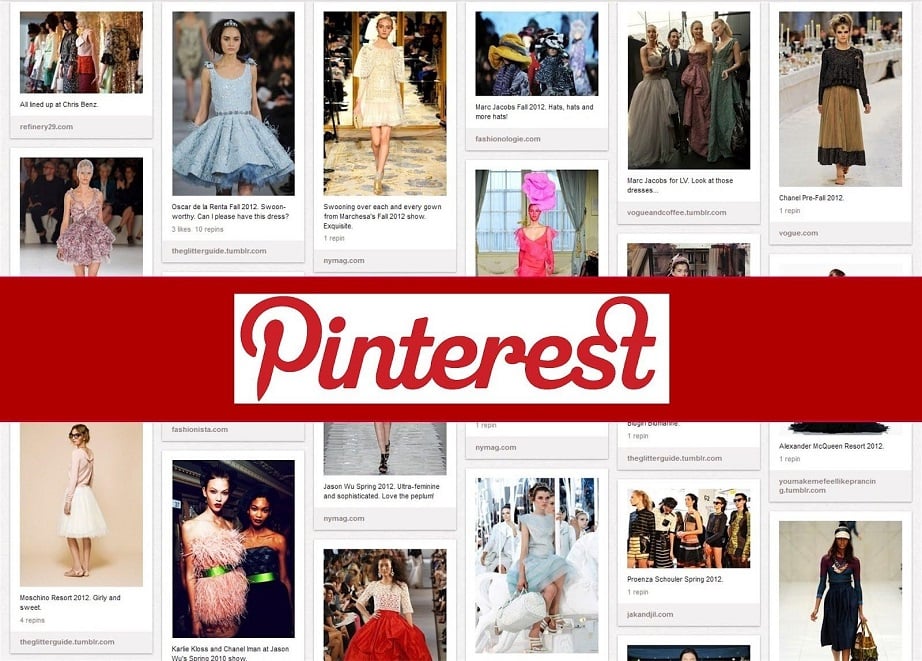 Image Courtesy: Creative Marketing & Design
How Pinterest Trends Influence on Web Design
Within a short span, Pinterest has managed to influence the intricate domain of web design. Many brands from online magazines to product based companies and retailers are now adopting a 'Pinterest inspired' web design interface to gain the attention of an online audience. This grid-style layout of web design focuses more on images and reduces texts. Thus, the popularity of Pinterest has triggered a new web trend.
It started gaining ground when many popular photo-sharing sites such as Flickr, eBay, MySpace, Quora, StumbleUpon and other major retailers redesigned their web design inspired from Pinterest's grid style layout. This image-focused layout reflects a bulletin board filled with exciting images. The benefit of this layout is, it allows users to create and curate – ideas or sets of pictures in a more enhanced and viewer-friendly way.
In December, Quora introduced a new feature that included topic 'boards'. Followed by Chill (a social video sharing site) that redesigned its website in January to contain bricks of videos shared by the people whom you follow. In addition, many content visualization sites like 'Scrolldit' imitated Pinterest's block- by- block content feel. Moreover, there are many sites that can be regarded as 'Pinterest Clones' as they have imitated the concept of Pinterest and implementing all Pinterest trends in both design and functionality.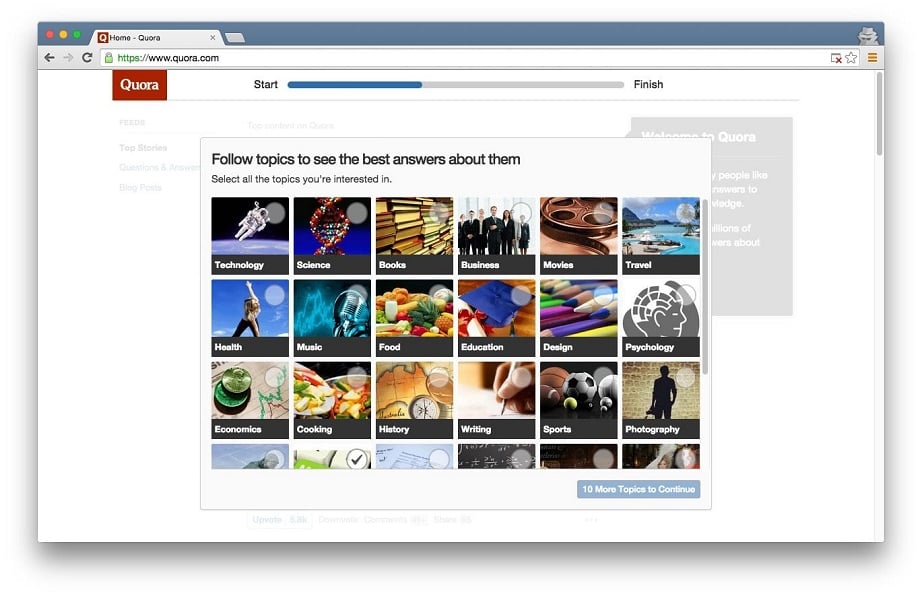 Image Courtesy: Appcues
Facebook Introduces 'Collections'
The Pinterest trends impact can be noticed from the fact the even well established social media giant like Facebook has introduced a new feature called 'Facebook Collections'. If you take a look at the below-mentioned screen shot 'collections', it looks more like photo albums wherein users can collect, buy, like and want different products. By introducing such design features, Facebook is making an attempt to engage users in more useful conversations with their fans, friends, and family and is surely keeping pace with the changing web design trends.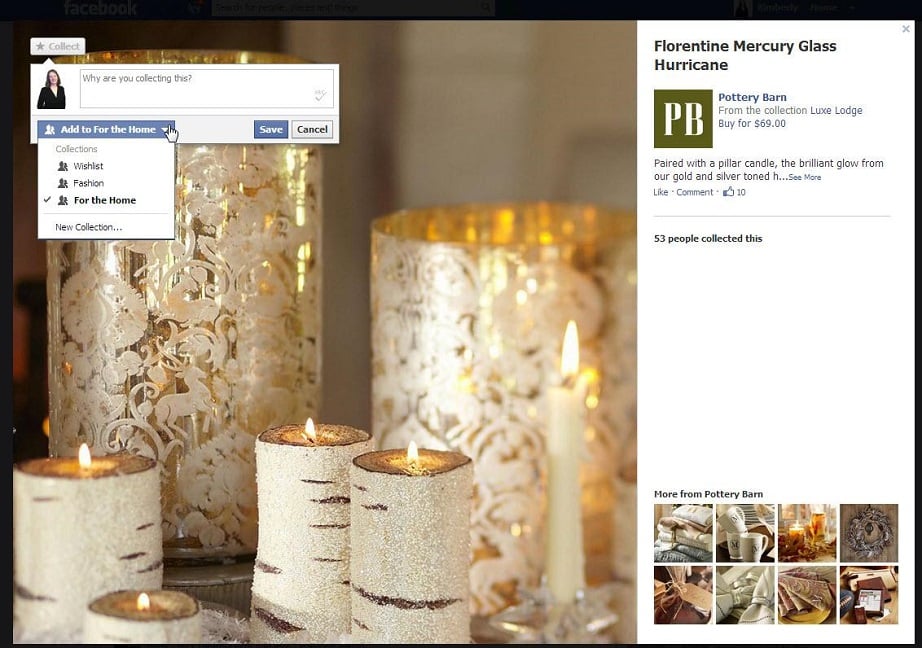 Image Courtesy: B2C
How Pinterest Trends are influencing Mobile Design
'Pinterest inspired design' is also making waves in the mobile Design. So many apps are now following the footsteps of Pinterest in terms of look and functionality. Mobile apps have restricted screen space and this bulletin board appearance is more convenient with apps.
One great example of Pinterest-like design is 'Get it now' app design. This app is for ordering food, groceries, and office supplies. With the Pinterest inspired interface design, users are able to order food in three simple touches such as select your order, select the quantity, and hit the submit button. Another bonus of adopting Pinterest trends.
Pinterest provides great opportunities for businesses, especially startups, to pull traffic and draw attention of people.
Let's take a dive into reasons that made Pinterest a success:
Unusual Design -The popular Pinterest site does not use conventional web building blocks and has an unusual design. It displays web content very creatively in the form of fun, colorful blocks that users can manage onto different pinboards. The primary focus of the block remains on the image and the options to 'like', 'repin' and 'comment' are below the fold that makes it a replica of a mini web page.
It's a fun experience – Though the site boasts a simple concept it gives a fun experience to users. Unlike other social sites that bombard users with every type of content from blogs to videos to images to logo designs, Pinterest is only about images. And we all agree to this, looking at beautiful images is more fun than reading texts or blogs. Though we come across images on other social channels as well, the way they are displayed in a grid style layout on Pinterest, they are easy to consume and look incredibly attractive.
Easy to use – Pinterest is easy to use, whichever image you like, you can simply pin the image to your pinboard using 'Pin it' button. It allows you to quickly respond to things you see online, a great way to turn passive viewing into active curation. You can save all the images you like on the web in a single place and share it with your friends and family.
You can organize all your photos onto different boards with different themes. Moreover, you can find anything of your interest from travel to apparel, from food to photography etc. Other interesting features are if you find something interesting on somebody's board you have the option to 're-pin' it. If not re-pin, you can always like it.
It's about interests not friends – Pinterest is a great platform to build a community around your interests. Unlike other social media platforms that emphasize more on networking with your friends, Pinterest focuses more on what interests you. On Facebook it is more about people who have liked your page, Twitter and Instagram are about followers, LinkedIn is about connections. If you want to be a hit on any of these platforms you need to build a fan base first only then there is the benefit of marketing your content, products, and services. But it is not the case with Pinterest, users can look at everything everyone shares, it is not necessary to have a huge following first to gain traction.
Another bonus is if your image is shared or liked multiple times then it automatically gets displayed in the most popular shares and you can enjoy the attention.
Similar to shopping – It is simultaneously a way of window shopping where you can save all your liked items under the closet named pinboards. It is a great way to remember and share things of your choice. Besides, you can buy links to buy things and it won't be much to say that Pinterest inspires shopping of all kinds.
We all know that human mind processes images way faster than textual information and this is the main success mantra behind the popular pinning site Pinterest.
Wrapping up – The visual scene is surely dominating the social media today. It is literally pushing the designers to think-out-of-the-box in order to come up with the new web design trends. Pinterest design trend does not seem to disappear in a puff of smoke rather it appears more like the beginning of photo-centric designs in the domain of web design.
It leaves me with a question: are you going to adapt Pinterest treneds for your site or your next project?