Halloween Websites that Inspire: Top 5 Nice & Scary Examples
Carving pumpkins already? Or maybe you're looking for a blood-chilling costume for trick-or-treating on October, 31st? One of the most thrilling holidays of the year, Halloween, has all kinds of activities to entertain and scare at the same time. You can attend costume parties, play divination games, carve jack-o'-lanterns, visit haunted attractions, tell scary stories and watch horror movies. The to-do list is endless, and if you need ideas you can get plenty on the web.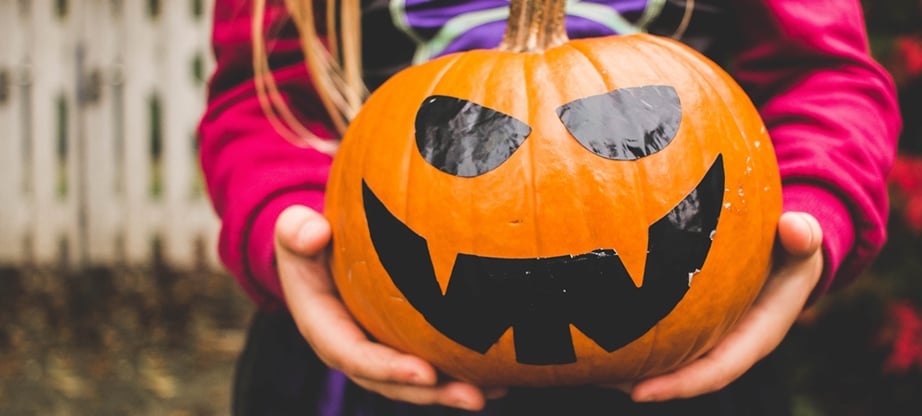 All Hallows' Eve is approaching, so it's about time to put together a roundup of the scariest Halloween websites to tickle your nerves. Whether you're seeking Halloween templates, Halloween costume ideas, Halloween decorations or scary movies to spend a spooky evening at home, here are a few suggestions you might like.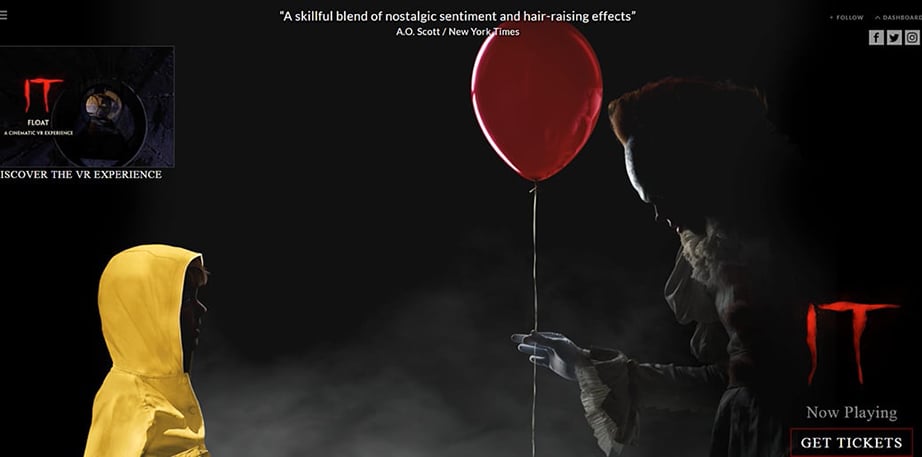 Source: IT
"IT", the latest supernatural horror movie based on Stephen King's 1986 novel has been critically acclaimed. It's not recommended to watch for people having coulrophobia, the fear of clowns since Pennywise the Dancing Clown is one of the main characters of the story. Visiting the movie's website will be none the less scary. Taking a 360 Cinematic VR tour down the sewers of Derry will be an immersive experience making you feel like one of the movie heroes. The website contains a collection of movie teasers and trailers. Also, in the masonry gallery on the homepage, you can see the on-set photography and HQ screencaps from the movie.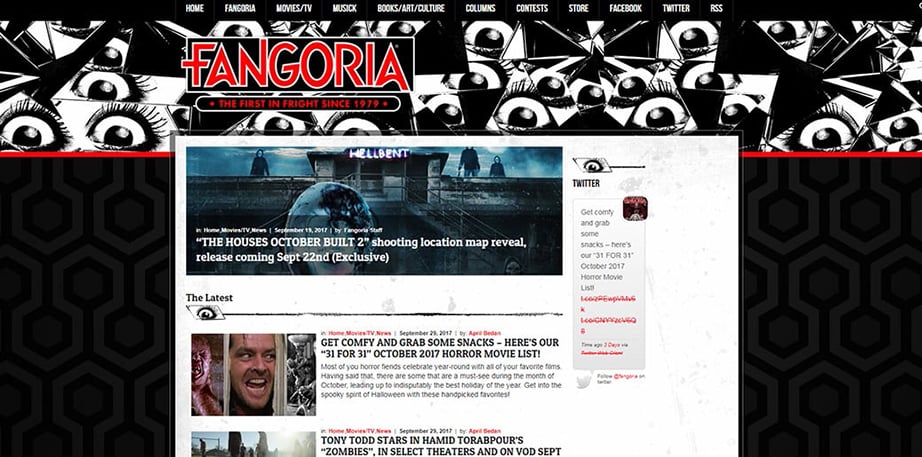 Source: Fangoria
Up next in our Halloween websites collection is a website for true horror lovers. Fangoria is an artsy online portal dedicated to horror pop culture. Originated from a paper magazine, Fangoria website has an attractive pop-art styled design. It contains insights on horror history and exclusive interviews with the creators and stars of classic horror films as well as provides the coverage of new productions. Here you will find a book and comic, game and toy, movie reviews, mixtapes and a lot more.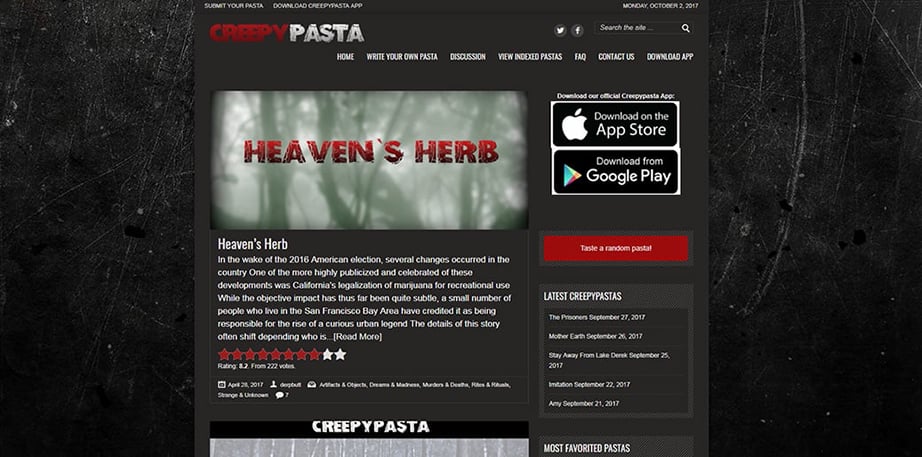 Source: Creepy Pasta
If you want to give your guests a good fright at a Halloween party, Creepy Pasta is the go-to website. Being one of the spookiest Halloween websites, it contains tons of hair-raising content. Frightening urban legends, stories of supernatural, living dead, vampires, tales from the grave and whatnot. Owing to the willing horror tale contributors, Creepy Pasta is frequently updated. To make things creepier, people share their own real-life scary experiences and stories.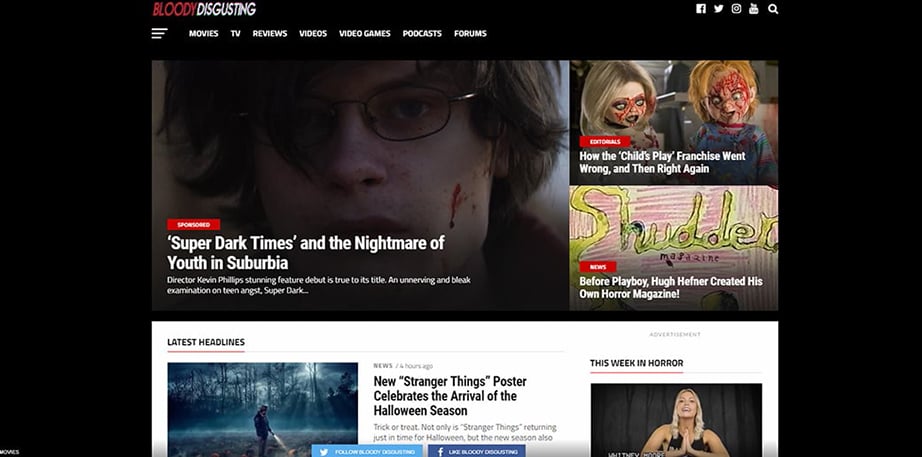 Source: Bloody Disgusting
If you're bored on All Saints' Eve, check out Bloody Disgusting. It is a full-blown all things horror portal which has a selection of movies, TV shows, scary videos, podcasts, video game reviews etc. This resource is capable of chasing the boredom away. Also, it has a forum where horror fans can communicate and sell, trade or buy horror culture related artifacts. If you want more of Bloody Disgusting, there are several social media profiles you can follow to get the latest updates on what's new in the world of horror.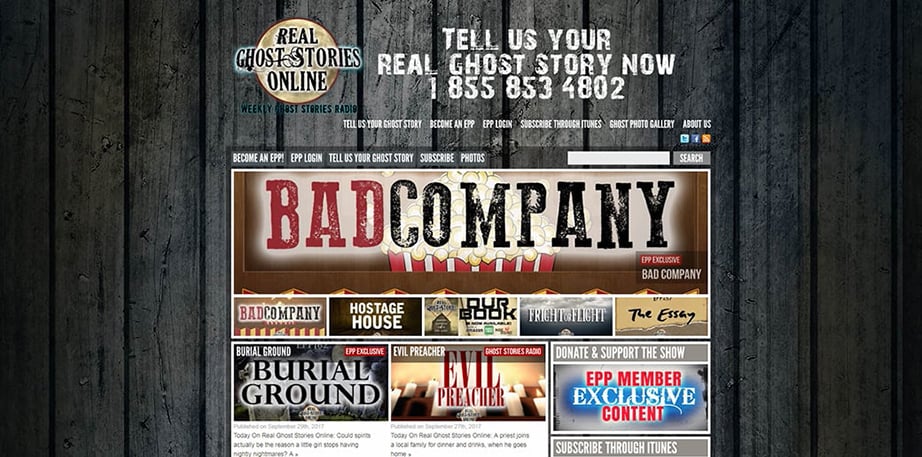 Source: Real Ghost Stories Online
Real Ghost Stories Online is a radio show with interviews, real-life experiences with ghosts told on air and written supernatural stories sent by listeners from all over the world. People who have had paranormal experiences of any kind are encouraged to share them without fear of being judged. Real Ghost Stories can be the soundtrack of your Halloween party if you want to frighten your guests do death.
How To Build a Halloween Website?
In case you are feeling inspired by the above examples and want to create a Halloween website on your own, check out a few useful resources. There is no need to be a professional web designer to build a scary Halloween website from scratch. Try using drag-and-drop MotoCMS 3.0 website builder. Being an intuitive website building software, it allows mixing and matching the design elements without touching a line of programming code.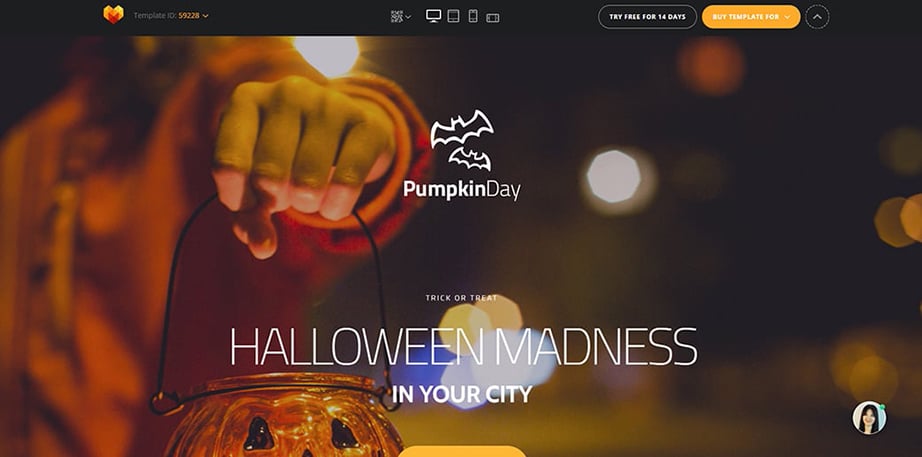 Using a Halloween MotoCMS 3.0 template with blog functionality will result in a professional-looking website with minimum efforts made. 100% responsive design of the template guarantees that your website will look consistent on different screen sizes and resolutions. The handy drag-and-drop editor will allow creating new web page sections as well as manage widgets and adjust settings.
Presets Builder feature will be helpful in modifying the widgets that come packed with the theme. Enliven your Hallowe'en website with Slider and Audio Player widgets and make your content more interactive. MotoCMS 3.0 Halloween template is SEO-ready which means its code is optimized in compliance with Google guidelines. Creating SEO-friendly blog posts and spreading the word of your spooky website in search engines will be possible due to blog functionality.
Choosing a nice and scary website template is only a half of the way. Now, you need to give your website a truly Halloween feel. There is no better way to do that than by throwing in some spine-chilling UI elements.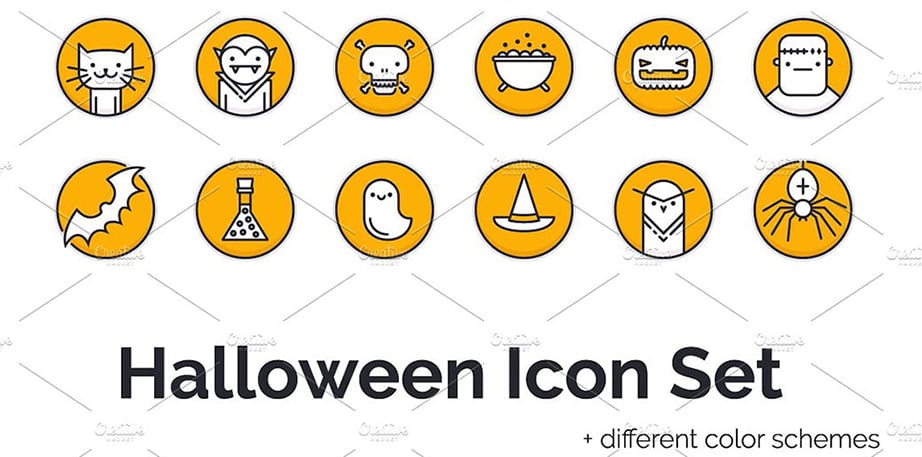 Source: CreativeMarket
The devil is in the details, so start with a Halloween Icon Set to spookify your website design. Select among 12 outline icons in four color schemes and a Halloween pattern in 3 color schemes to adjust them to the look of your resource.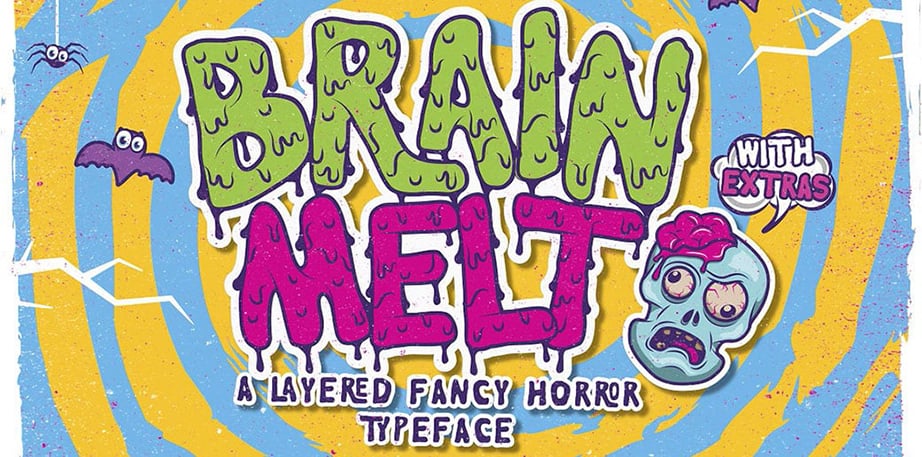 Source: CreativeMarket
To create an ambiance of horror, choose Brain Melt Layered Typeface with a hint of a zombie apocalypse. This pop-art inspired typeface can be used for both serious and funny concepts. Brain Melt has OTF and TTF versions.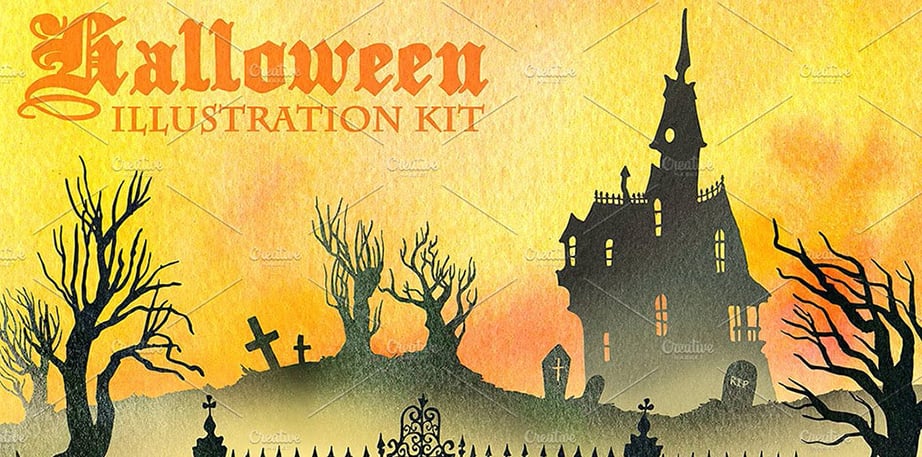 Source: CreativeMarket
If you want to throw in a little something to make the overall design look scarier, try using Halloween Illustration Kit. It contains 40 hand-drawn vector shapes and 9 colorful watercolor washes for texture creation. Also, this kit ships with 19 landscape elements including a haunted house and graveyard scenes to add up to suspense.
There's no better way to add suspense to your website design than by using Halloween themed web backgrounds. For instance, you could use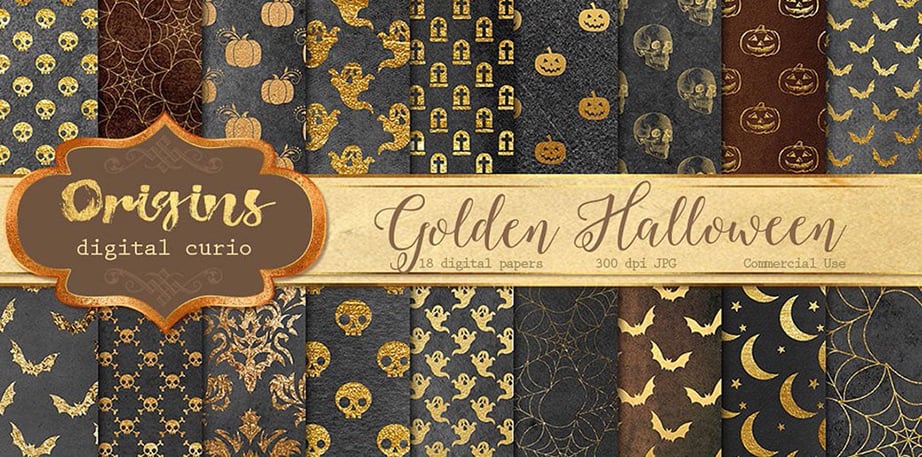 Source: CreativeMarket
Gold Halloween Digital Paper to create unique looking web page backgrounds which will give a frightening holiday vibe. All it takes is to use a set of 18 original HQ Halloween digital papers imitating the faux gold foil. Owing to the ornate pattern and exquisite design.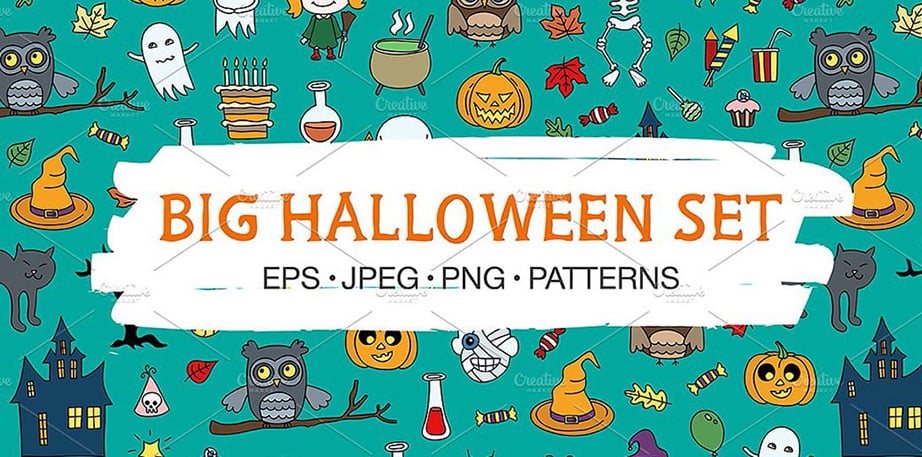 Source: CreativeMarket
And, if you prefer cartoonish Halloween designs, you should definitely try a Big Halloween Set which contains all kinds of EPS, JPG, PNG illustrations and patterns to create arrangements of any complexity.
So, what are you going to do at Halloween? Are you throwing a party, watching movies or visiting a haunted mansion in the neighborhood? Seems like there are plenty of options from having fun to website creation. Hopefully, this year's All Hallows' Eve will be the one to remember! Do you know of other cool and scary websites to sneak a peek at? Feel free to share in comments!