6 Digital Marketing Trends 2016 That Will Boost Your Business
2016 is now upon us and from a digital marketing perspective we are going to be heading into a year that will require more changes and amendments to our marketing efforts. Don't leave it to chance, or wait until the last minute to implement these important changes.
Below we have highlighted 6 of the biggest digital marketing trends that will appear in 2016, and why making them a part of your strategy will boost your brand awareness, website traffic and conversion rates.
Content creators are more necessary than ever
Content has always been a fundamental part of websites and marketing but it has only been in the last few years where content has really come into its own. Nowadays content is probably one of the most important things you should be focusing on, and we aren't just talking about pointless articles that hold no real information in them. We are talking about articles that are packed full of useful information that not only targets the search engines but targets readers as a priority.
Content that is lengthy, encapsulates a subject matter and has the likes of high quality imagery, videos and other embedded features implemented into it is the kind of useful content your users are looking for. Above all, content has to look clean, fresh and well presented in order to get the link earning ball rolling and social sharing engagement.
Conversion optimization has high ROI
Conversion optimization is going to be another big hitter and probably the biggest change to increasing a company's bottom line quickly and effectively overnight. Although this practice isn't new, these two words haven't meant a great deal to some companies, but with some fantastic tools and guides on how you can take a visitor from start to finish in the quickest time, with the best user-experience is going to be a key part of digital marketing in 2016, so be prepared.
Simply put, conversion optimization is all about whether a visitor takes an action on your website that you want them to take. As an example, the goal could be for a visitor to sign-up for a newsletter, buy a product, and order a brochure. In order to increase the percentage of people that are doing this we then need to look at how to optimize the site in order to convert more people into taking those actions that increase your business.
Whether it's looking at analytics or reading through user feedback, certain patterns and objectives will come to light and you can then establish a strategy to help guide the user through the process more effectively than before. It's all about taking that traffic you are getting and directing that traffic to where you want them to be to make the most of it.
Social conversion is coming
Social Media has been huge for a long while now but here's the lowdown; it's still continuing to grow. The more social becomes a part of our lives the more we need to turn to it in order to make the most of our business growth.
Facebook alone is evolving all the time and with billions of people to reach, and with shops implemented into fan-pages it makes sense that we keep our fingers firmly on the pulse when it comes to social conversion as it could be what your business needs to hit the next level.
Just one glance into the Insights and functionality of Facebook Ads and you will see how granular you can go when targeting users with your ads. You can also install conversion-tracking pixels on your checkout page to see how well certain ads perform compared to others.
It's this magic piece of code that can help you measure lead conversion and ultimately increase the conversion rates from Social Media platforms like Facebook or Twitter, allowing you to make the necessary amendments to your website in order to boost sales.
Social conversion will also open your eyes to customer behaviour so you can adapt and respond appropriately to these changes.
New payment methods are on the rise
Online stores and e-commerce sites are about to head into a whole new realm of payments with the introduction of new payment methods, and current payment methods that are being tweaked. Already we have PayPal, Square and Swipe, which are big guns in helping the average Joe start selling products. But with the latest addition of EVM cards (a global credit card standard) things could get much easier.
EVM cards are an abbreviation for Europay, VISA and MasterCard, working off chip card (CHIP and PIN) technology. They will provide a high level of security through both contact and contactless methods of payment to combat identity theft and cybercrime. With over 3.4 billion EMV payment cards in operation this figure is set to rise in 2016 as more people make the switch-over from magnetic stripe cards, which means you need to make sure your eCommerce site can support this kind of payment application.
Stop relying on Google
The age where we thought Google was the be-all-end-all is soon starting to die off, and for many marketers we never thought this day would come. We aren't by any means saying forget about Google. That would not be a smart move. But you certainly don't need to completely rely on them anymore. We have already touched upon social media which on its own is a powerful channel to bring in traffic and conversions, but you also have many other ways to bring in traffic without needing Google, such as direct targeted marketing.
Direct marketing is a method where you can reach out to current and potential customers in order to promote the products and services being sold. The benefit of this form of marketing is that you are targeting a certain area of the community with a personalized approach instead of a broad un-related message.
Some examples of direct marketing can be direct email shots, leaflets, SMS marketing and even telephone marketing. These aspects make up offline and online marketing practices so all bases are covered.
Marketing automation
Finally, marketing automation is taking a new step forward in digital marketing, and no longer is this a strategy that only the big budget companies can implement. This method can now help smaller companies with plenty of customers, save time by letting software platforms take out a lot of the tedious manual work and replace it with marketing automation services that can help them achieve their goals, much faster.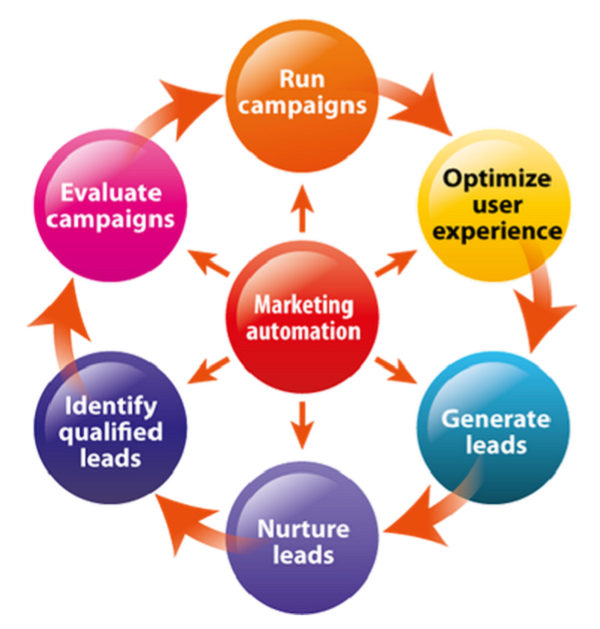 HubSpot is probably the prime example of marketing automation as they provide sophisticated tools in order to help marketers do their jobs more effectively and successfully. Instead of repeating tedious manual tasks and processes these kinds of tools help speed up the process for you, when it comes to the likes of social media and email marketing. The benefits of marketing automation are that it frees up a lot of time and reduces the risk of any human error. The best part is that the automation can be set based on behaviors and actions. You end up identifying the users that are engaged with your brand so you can focus more time on them.
Other than HubSpot you also have Marketo, which is slightly more costly but goes into deeper functionality and helps with email campaigns right through to excellent tools for sales teams. There are many marketing automation platforms so we suggest doing your homework to find the right tool for your needs.