Choose Your Top Photoshop App for iPhone to Make Your Imagery Stunning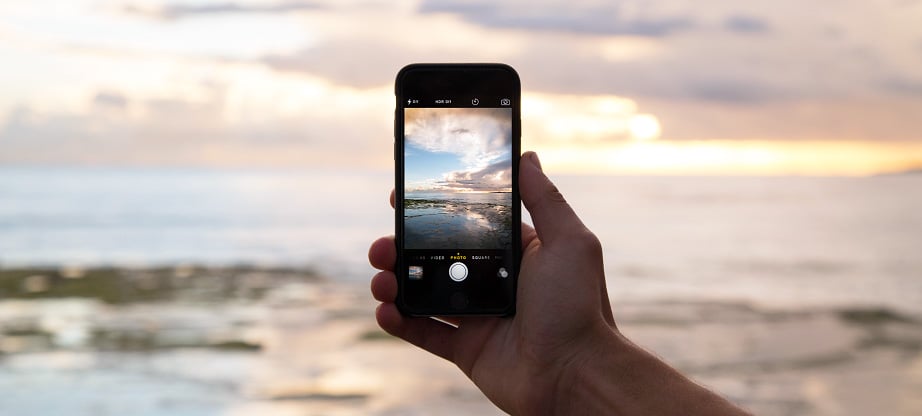 In photography, there is a reality so subtle that it becomes more real than reality.

Alfred Stieglitz
Photography has always been considered both science and art. Photographers of the past were smart artists with a camera who used a blend of technical skills and an artistic eye to make the most breathtaking moments freeze and pass into history. Barely one of them could ever imagine that one day people would be able to make wonderful photos without spending hours in the dark laboratory.
Nowadays you can take hundreds of photos whenever and wherever you like without any special equipment – simply by taking your phone out of the pocket and making a shot. There are thousands of iPhone photo editing apps that enable you to spruce up your photos on the go. And here we'd like to represent you our favorite ones so you can choose your top Photoshop app for iPhone.
Camera+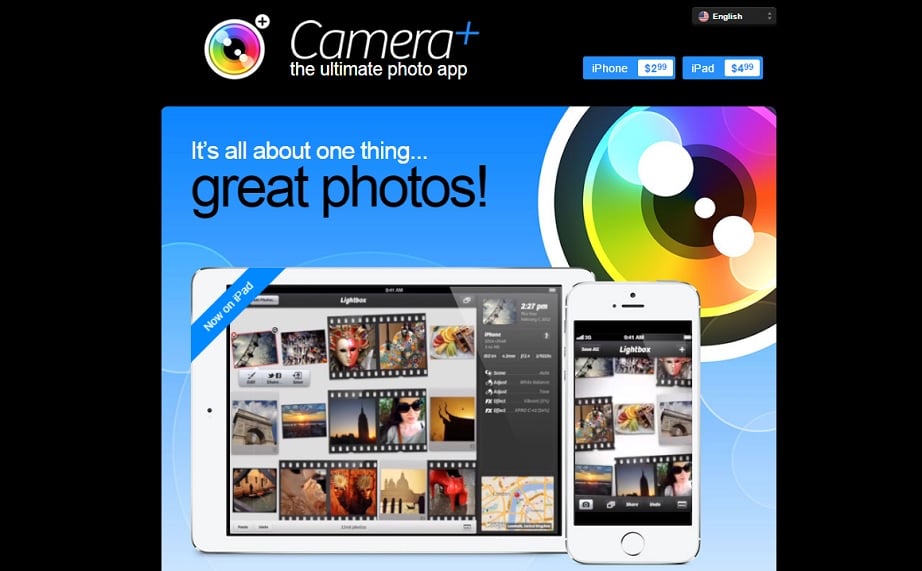 Camera + app is both a camera and a photo editing app that allows you to take a snap and edit it straight in the app. Having taken a photo you can view the results in the Lightbox and quickly jump into editing mode. The Lab offers a lot of tweaks to make your photo perfect. The Clarity feature can be considered a real breakthrough in image processing. Analyzing your photos it makes several smart adjustments that bring out details and enliven even the dullest photos.
Darkroom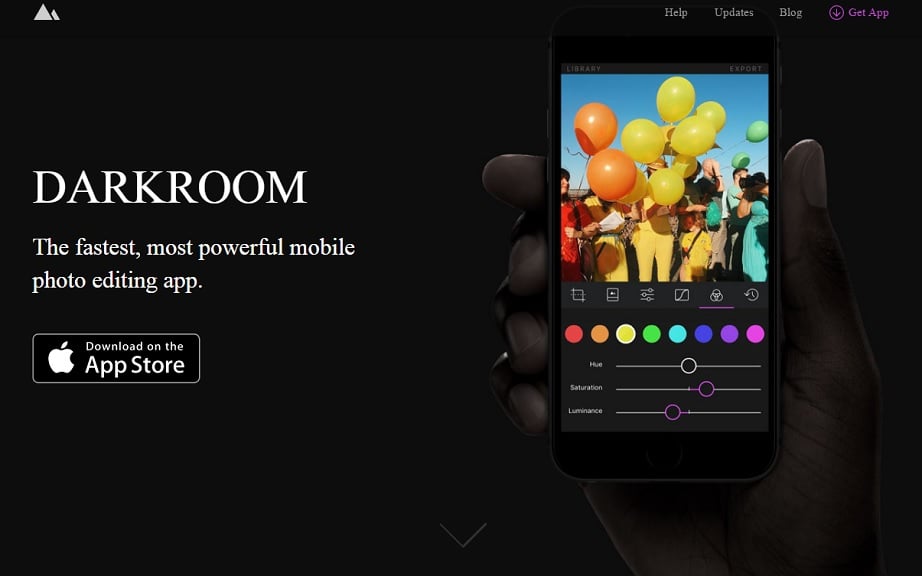 Unlike the majority of photo editors, Darkroom neither requires an initial importing step nor does it use its own library. You just get immediate access to your iPhone library instead and are able to choose from any of your albums. All your edits in Darkroom are shown in real-time. Its filters and adjustments emphasize subtlety and care in editing. You can customize any of the filters or create your own. You can also match styles across your entire photo story by copying and pasting your edits. Darkroom non-destructive engine enables you to undo anything anytime never worrying about losing your place.
Mextures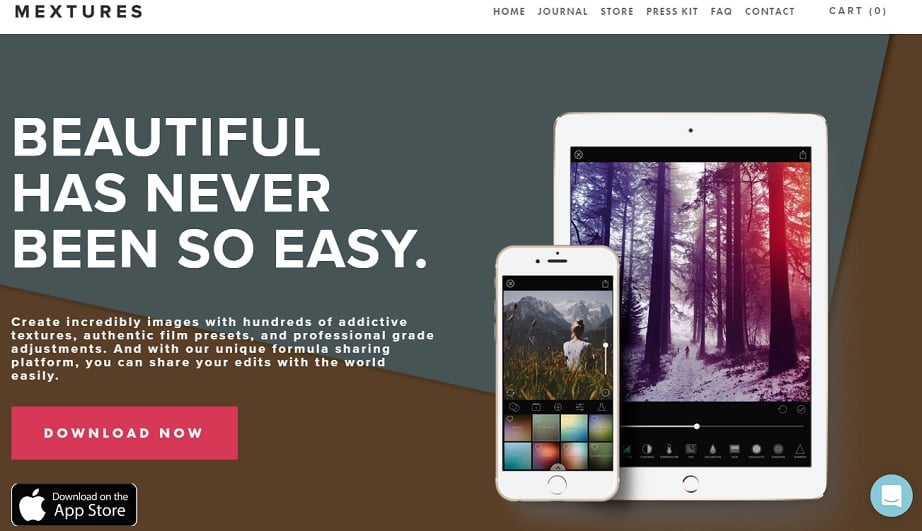 Mextures app gives you an opportunity of creating a unique editing style of your own. It offers you more than 150 various textures including grit and grain, light leaks, gradients, radiance, grunge and what not. There are 12 different blending modes per texture. Non-linear editing enables you to change any edit you've made even a dozen steps ago. You can save your edits with the Formula workflow. The Formula Manager makes it possible to share your formulas on any social network as well as to import the formulas from other users.
Rhonna Designs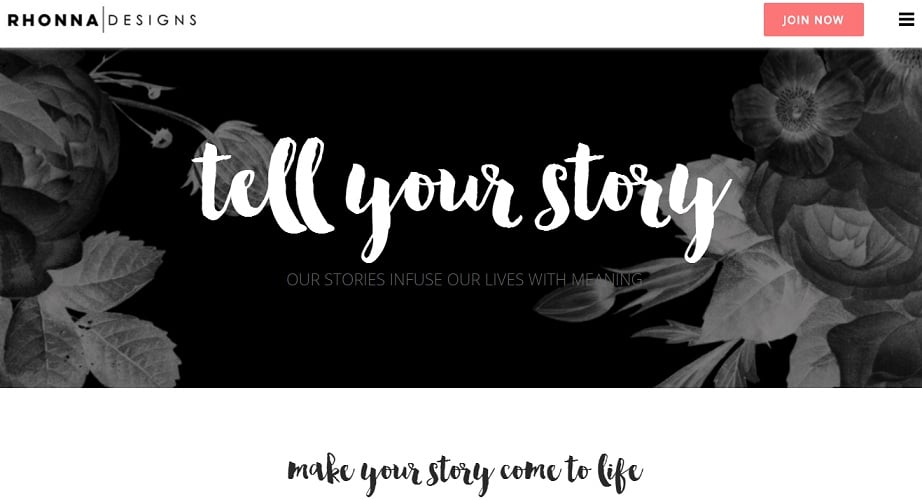 Rhonna Designs is a photo editing app that enables you to add inspiring text and designs to your photos. If you enjoy decorating your photos with tons of things such as fonts, sayings, clip art and more, Rhonna Designs will become one of your favorites. This app offers 25 exclusive design packages grouped according to the theme – banners,  celebrations, goals, quotes, tags, and others; four different packages of fonts with each package featuring 10 or 11 fonts and 25 plus colors; more than 30 frames and 9 filters, word art, glitter, metallics, and colored art. Masking is one of the greatest options the app suggests. By making the background look a bit fuzzier it helps to put the focus on the primary area or a person in your photo.
Enlight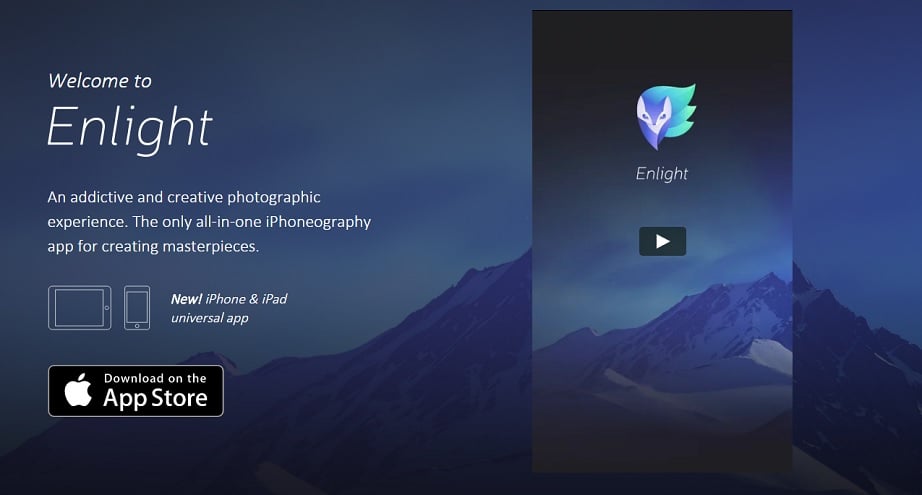 Enlight is an all-in-one iPhone photo editor with creative and artistic tools. You can get your perfect composition by cropping, flipping, rotating, and straightening crooked photos. Special effects enable you to decorate your photos with bokeh lights, snow, confetti, hearts, bubbles, paint splatter and more. Its Reshape feature makes it possible to realistically alter your subject or to go abstract by bloating, shrinking, or reshaping objects. Using Mixer tool you can seamlessly blend images to superimpose your photos or create a surreal double exposure effect.
AfterFocus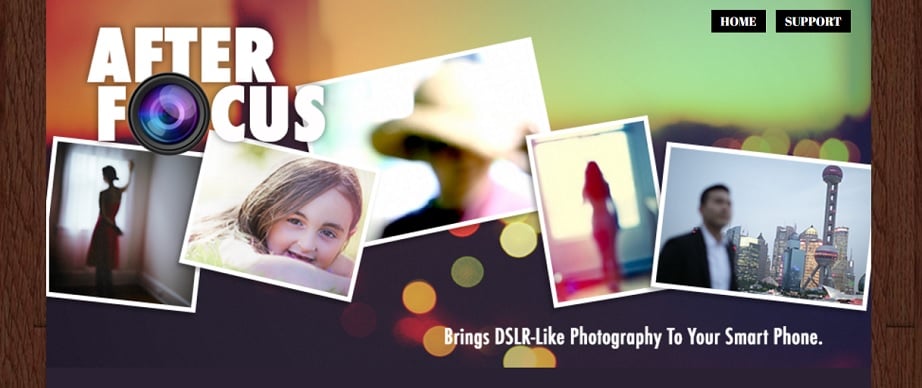 AfterFocus is an app that is able to imitate the shallow depth of field effect that can be only achieved with a DSLR or close-up photography. The shallow depth of field is essential both in portrait photography to focus the viewer's attention on the main object and in landscape photography if you want all aspects of the photo to be in sharp focus. You should simply draw some lines inside a focus area and the background to make AfterFocus automatically recognize the focus area. The Motion blur effect can be used to emphasize that certain things move.
Color Splash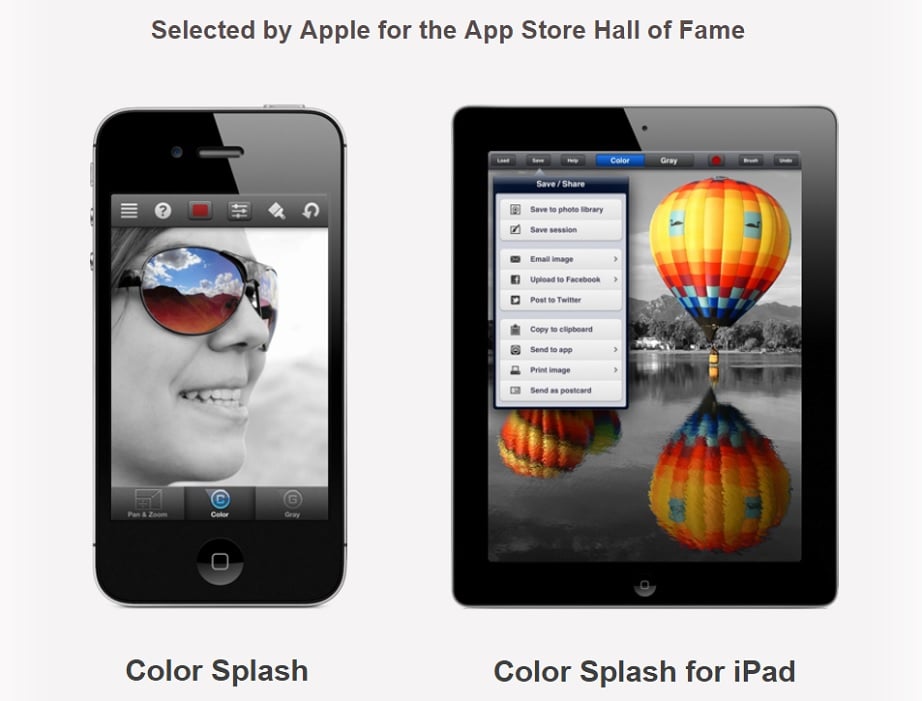 If you enjoy giving your photos a dramatic look Color Splash is the very app you need. It enables you to convert your photos to black and white while keeping some chosen details in color. The process is as easy as a pie with the intuitive and responsive user interface. The only thing you need to edit your photos is your own finger. Using it as a brush you can remove or bring back the original color to the chosen areas of your photo. With a two finger pinching gesture, you are able to zoom in to work on fine details or zoom out to continue on larger areas.
TouchRetouch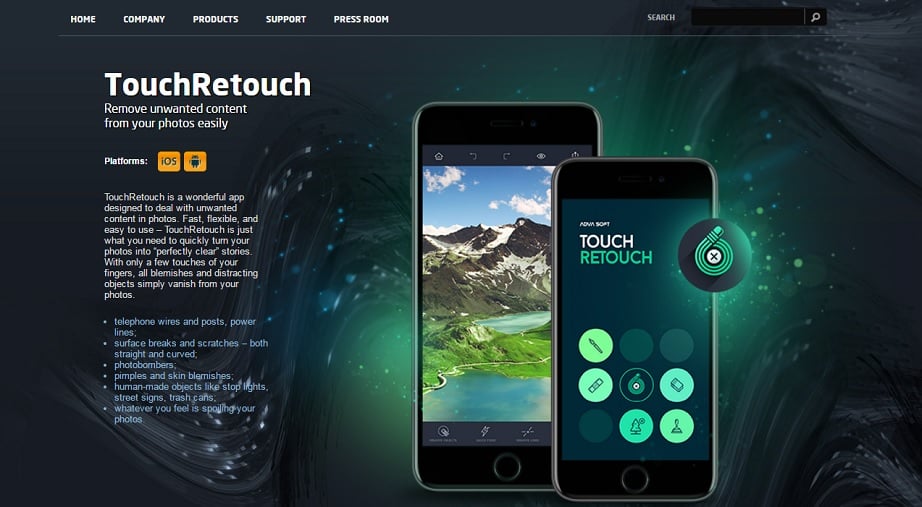 Sometimes your photos contain unwanted elements that spoil their perfect look. TouchRetouch app is a number one tool to solve this problem in no time. Telephone wires and posts, power lines, surface breaks and scratches, stop lights, street signs, trash cans and even pimples and skin blemishes can be easily removed with only a few touches of your fingers. This app also provides you with a useful clone feature that allows you to copy some areas of one photo to another. Together with the app, you get both video and text-based tutorials.
SKRWT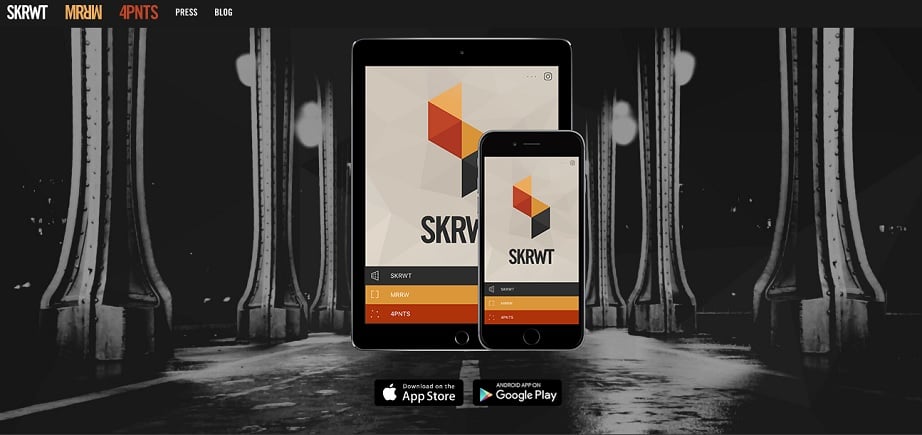 Rather often some objects on your photos can look a bit distorted. It's more than noticeable when it comes to architectural photos of tall buildings where the lines appear to converge towards the top. SKRWT app is simply irreplaceable in such a situation. SKRWT is able to straighten converging lines by correcting perspective and lens distortion. The built-in EXIF-reader provides you with all file information (shots aperture, shutter, ISO and much more) at one glance. Using Gallery Sorting function you can arrange your folders in the most convenient way and hide those that hinder your editing workflow.
Filterstorm Neue

Alongside with a wide range of the typical photo editing tools from powerful masking tools to simple pre-made filters, Filterstorm Neue offers several advanced tools such as curves, levels, a tone map and a channel mixer. It also has selective adjustment points that enable you to change the settings (such as saturation, brightness, etc.) on a particular part of your photo. So, if you want to increase the color intensity of a single object you can easily do it. One more distinctive feature is its speed due to the new rewritten version. It uses the GPU instead of the CPU thus making the process much faster.
Lens Distortions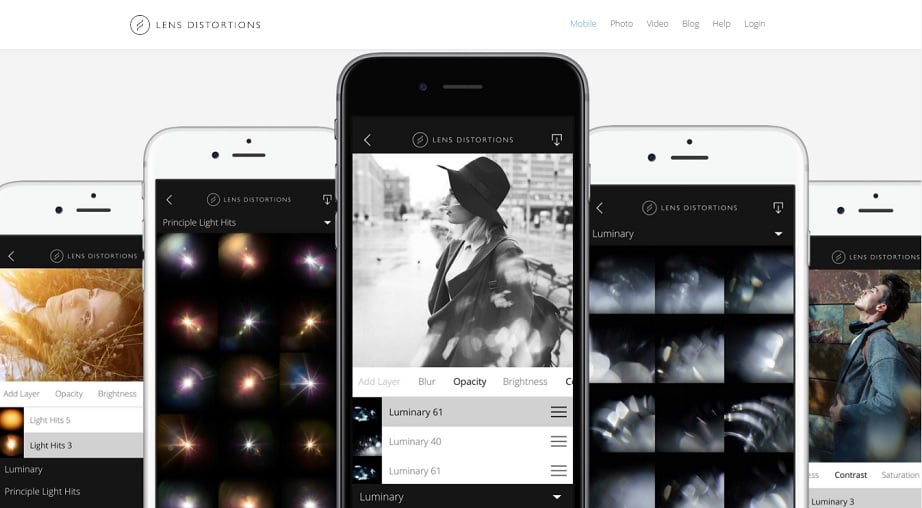 Lens Distortions app enhances your photos with sun flares, fog, and other shimmering light effects. You can create atmospheric depth with glistening particles of light or fog, draw your viewer's eye with organic light hits or frame your shots with beautiful shards of glass.  The overlays of Lens Distortions are quite unique because they've been created from actual photos of those same elements such as natural haze (Fog collection), sunlight (Light Hits collection), or fragments of glass (Legacy collection). It gives your photos rich detail and high fidelity.
Superimpose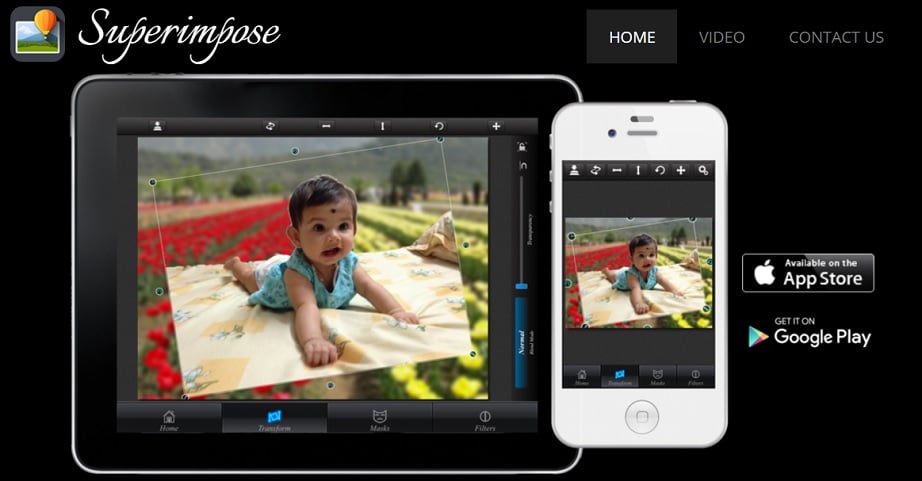 Superimpose app is one of the easiest ways to superimpose one photo on top of another. This app is a convenient tool to combine and blend multiple photos into a single composite image. You can remove the background from your image and replace it with a different one. You can also resize, move or rotate the foreground with touch gestures. Superimpose filters enable you to match the foreground to the background. Moreover, they can be applied on background and foreground separately.
Which is your top Photoshop app for iPhone? Try using any of these apps to feel yourself a real pro in photography and enjoy the best quality of your photos.