Bootstrap Infographic: Finding The Most Useful Info in One Place
The simple truth of life is you can never know what to expect. You can be healthy, happy and full of energy in the morning, but in the evening you can appear in a bad mood. Nevertheless, I don't want you adjust yourself on the negative tune (though everything can happen, you should remember), let me give you an example of an enjoyable surprise.

I started my day surfing the internet for fun and some useful materials that would help to improve my effectiveness in web mastering. The search led me to one interesting thing, called Bootstrap. In a few words, it's a front-end framework for website managing. But I craved more info before using the software: I didn't want to download and then to get disappointed because Bootstrap didn't fulfill my expectations. The framework should have been described in a laconic manner – I hadn't time to read mile-long tutorials.
And at last the solution was found. I encountered a Bootstrap Infographics by TemplateMonster. This simple-to-perceive infographics gives the necessary definitions for the basic features of the software, reveals its specific benefits and much more. Above that, it provides users with plenty of links to different guides and tutorials in text and video format. I found out that the Bootstrap project is planning to quit Twitter and evolve separately, which told me a lot about the perspectives of this outstanding framework usage.
You can see a static version of the inforgaphic I'm talking about below; it provides useful materials, such as plugins, styles, tools, professional Bootstrap powered themes, mobile apps, etc. Now I see I need to download the framework as quick as I can to check out all these cool things. Are you with me?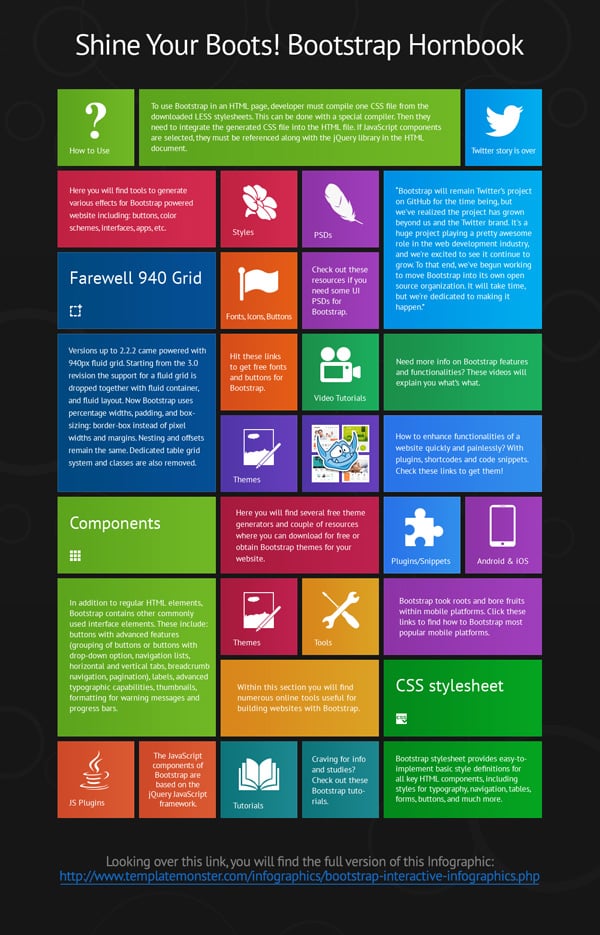 Here on Design Web Kit we have "17 Best Twitter Bootstrap Plugins to Use in 2013". Enjoy them too!