How To Come Up With The Best Ecommerce Ideas
Every year, the number of Internet users is increasing and their purchasing decisions have switched to click and order from a brick-and-mortar store. And, e-commerce has also become m-commerce as people have started browsing the web via their mobile devices.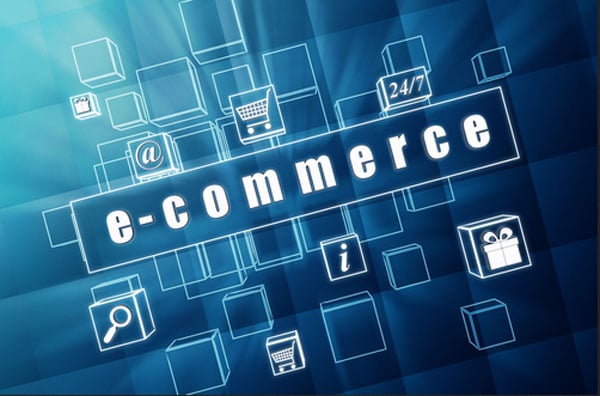 From a ticket booking counter to a grocery store, everything has appeared online. In this way, you can access any information or buy a product with the swipe of a finger or the click of a button.
Businesses can avail diverse benefits through e-commerce and address tough decisions such as social media and mobile strategies, website design, product pricing, customer service, etc. Here are the 7 best ways for marketers and entrepreneurs to improve their e-commerce.
Provide a User-oriented Experience
This is hard for a seller to convince the customers as they are not able to see and touch the products physically online. But, business owners might succeed to persuade the buyers by offering a personalized and user-friendly experience. Make sure that your business gets popular by offering great product quality and the most competitive prices. Keep two things on the priority a website design with a purpose and a wonderful UI.
Create Products/Services for Yourself
It will be the best test for your online business, e-commerce site, or an app that if you feel satisfied after using it, then you can expect the same from your customers. Make sure that you and even your team use these services just like your ideal customers. If you do not enjoy it, then it is not worthy enough to offer to your consumers.
Get Customer's Feedback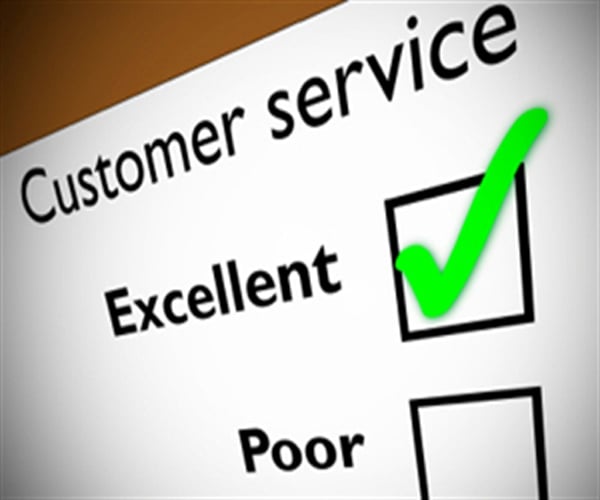 Good customer service is an integral part to ensure success for any enterprise whether it is a small, medium or large-scaled business. In order to check whether your services are good or not, you can get feedback from your valuable customers to know about the quality of your services. Business owners can make required adjustments and improvements in their services according to customer feedback that they receive at regular intervals.
Use Social Media
Undoubtedly, social media strategy particularly paid to advertise is a powerful content strategy, which is considered really effective to drive traffic to the website by impressing the target audience. Any e-commerce business of any size can avail a number of benefits from networks and websites including Etsy, Pinterest, Instagrams, eBay, etc. Social media is an influential method, but you shouldn't rely on it but use other methods as well.
Keep Mobile Users Happy
Online businesses cannot afford to ignore mobile users as most of the customers have started using mobile devices. Therefore, it is essential to make your website mobile-friendly, so that you can expect more business, more customers, and more benefits. Thus, you can enable your consumers to purchase your products or services from anywhere to anytime via their tablet or smartphone.
Bring Incentives for the Customers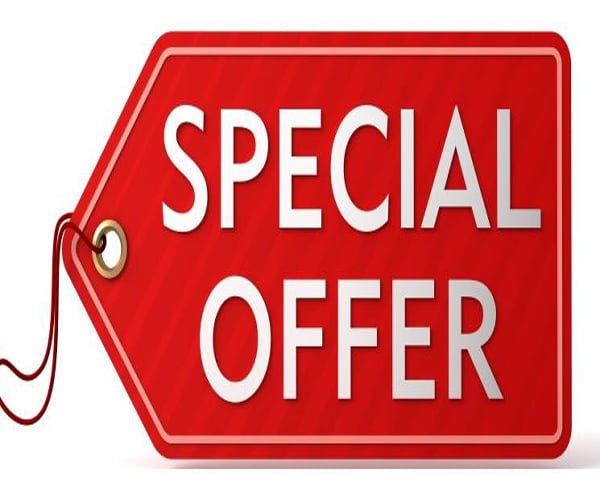 It definitely works if you offer discounts, promotions as well as loyalty programs for customers. This helps you build a positive brand affinity at the same time achieving 100% satisfaction from the customers' end. But, you will have to come up with something exclusive for your customers that is definitely different and better from your competitors.
Keep Evolving with the Time
The online marketplace keeps evolving. Therefore, an online business owner, who wants to stay ahead of the competitors has to keep going with this evolution. For this, it is necessary to keep up with the latest market trends, listen to the customers, conduct vigilant research and analyze metrics to improve the user's experience. In this manner, you can realize your dream of attaining a sky-touching sky on the online platform.
Bonus – Roxxe WordPress Theme for Efficient Website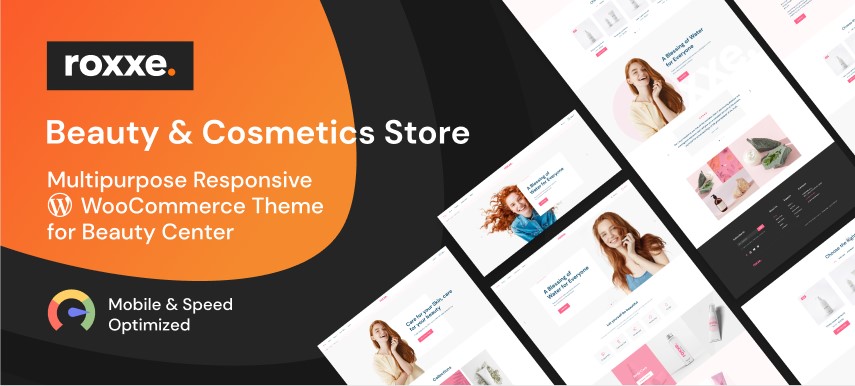 In case you're still in a search of creative ideas for an eCommerce website and are focused on a high-quality project on the Web, then meet all-in-one WooCommerce theme for beauty salons – Roxxe. On its base, you are able to build not only a salon but any online shop for cosmetics, beauty, or makeup. Make sure this theme will be a fundamental solution for your business and gain more clients in a short time.
Any website built with Elementor and WoCommerce plugins ensures stable and light performance with high functional sections corresponded to the latest technologies and users' demands. Along with this fact, the Roxxe WordPress theme is responsive and can guarantee a stunning visual look on any mobile device to your website.
Shopping will be a real pleasure for any clients with the wide product range and simple but extended filters system. Also, they can easily save the favorite product to the Wishlist and then make an order via a shopping cart. Simultaneously, this order will appear in a personal account and can be tracked by the client till the obtaining.
Roxxe WooCommerce theme will make your website optimized from a scratch thanks to a professional SEO, so your website will be in good hands. In addition, notice a clean and remarkable design of the pages. It can attract any involved customers and make him a regular one.  Don't limit yourself and boost your business with the Roxxe WordPress theme.
Discover the Vendy Multipurpose Shopify Theme for Fashion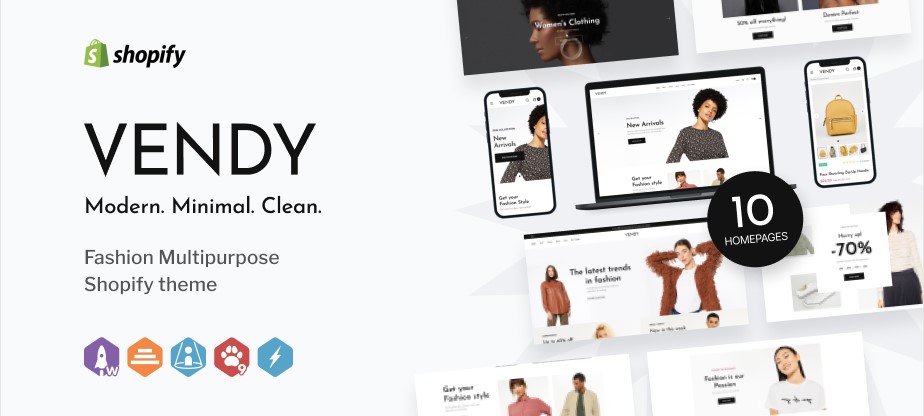 For sure, all the best eCommerce ideas were gathered while developing and designing Vendy. This brand-new smashing Shopify theme goes under an affordable price but brags of the first-rate functionality. Vendy is mobile-friendly which gives you an opportunity to attract more customers. Also, it's designed to catch attention and lead visitors to action buttons. And, its clean style will smoothly suit any product you sell. Especially, if you plan to launch a clothes, shoes, or accessories online store, mention this Shopify theme.
Moreover, the Vendy Multipurpose Shopify Theme for Fashion comes with the new-fangled Shopify Visual Builder on the board. With it, you will customize your website like a pro not touching any line of code.
In Addition
Most importantly, Vendy is SEO-friendly and compatible with any popular browser. As for eCommerce characteristics, this theme enables anyone to style products in grids or listings, apply a rating system, add descriptions and prices, and, of course, tweak up wishlists and shopping carts. Likewise, you will easily edit product lookbooks, due to special pre-designed layouts.
To sum up, stay assured that all these and other features are not difficult to use. And, if you get questions, just share them with the live-time support team. There is also detailed documentation. Enjoy!
Best Ecommerce Ideas – Conclusion
Thus, these were the best 7 ways to improve your e-commerce strategy. Every business owner can expect to stay ahead in the competitive race by following these simple tips.