8 Best CMS Website Builders For Both Experts and Beginners
CMS is a leader in website building and is commonly used by amateurs, die-hard developers and world famous companies. Amateurs in web development now have the freedom of choosing from dozens or even hundreds of platforms, allowing online business management without any coding background. Professional web developers are able to do their own work in much more effective ways, customizing or creating websites very easily and very fast. Even classic brands like Sony, Ford, Intel, Disney and many others run their websites with a content management system.
CMS website builders are not just good for creating own website. The most important thing is that a user can modify it with a wide range of tools, widgets and add-ons. With a content management system you are empowered to manage your online business directly in one place. You can customize your website design and layout, add an e-store or a blog, connect your online business with social media, track your website traffic with full statistics, come up with a working SEO strategy, access target emailing for website visitors and more.
There are plenty of systems to choose from. But first you have to investigate their main pros and cons before picking the one that will best meet your requirements.
Today the CMS market is full of different companies. Each developer tries to hone its platform to perfection in this competitive environment. As a result, users get a large variety of products each with their own benefits and drawbacks.
How do you make the right choice with all these options that are available?
8 Best CMS Website Builders for 2016 Roundup
Here are eight different platforms that you can choose from. The list was set in no particular order but with one purpose – to get an idea of what an average CMS developer is able to offer its users. I hope this review will be helpful for everyone who plans to build websites using a content management system. Enjoy.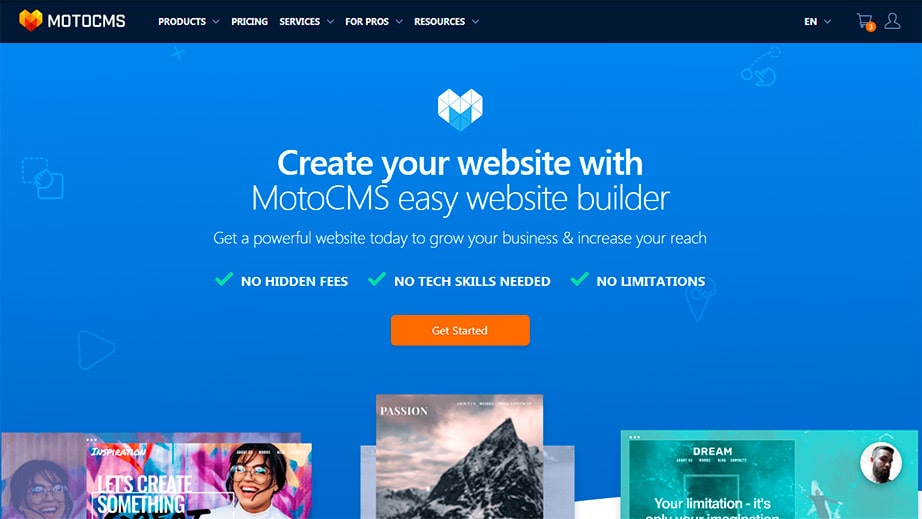 Ease of Use: drag-and-drop; WYSIWYG editor; code customization
Security: authentication, Zend Guard Loader
SEO- and mobile-friendly: yes
Add-ons and plugins: eCommerce plugin, White Label, SEO audit
Customer Support: free 24/7; Advanced Support; ticketing system for technical issues
Pricing: from $139 to $199
MotoCMS is a website builder, made originally for people who don't have a background in coding. Thanks to the simple drag-and-drop system and real time editing a novice won't struggle to manage his or her website. If you are a professional, this system is a nice choice for you as well. MotoCMS has special discounts for web developers who would like to work with this system on an on-going basis. The company offers a fully responsive CMS with built-in SEO settings, code customization and free lifetime support for each customer. For an additional cost a user can get advanced support with free website installation and a special chatroom.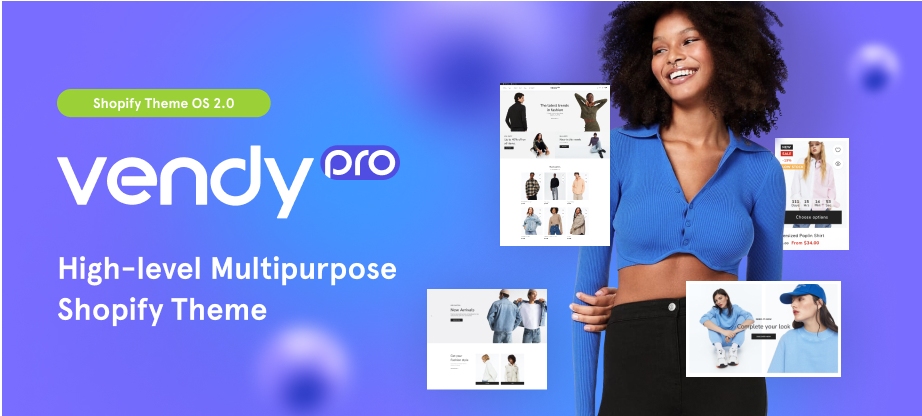 Ease of Use: Shopify Page Builder, perfect for newbies
Security: password protection
SEO- and mobile-friendly: yes
Add-ons and plugins: no additional apps required
Customer Support: ticket system, support chat, facebook community
Pricing: from $79
One standout multipurpose Shopify theme that deserves special mention is Vendy Pro. Designed to cater to the diverse needs of online businesses, Vendy Pro offers a range of features and customization options that make it an excellent choice for e-commerce websites.
If you're looking for a multipurpose Shopify theme that combines aesthetics, functionality, and ease of use, Vendy Pro is a fantastic choice. Its modern design, responsive layout, customizable options, and reliable customer support make it a valuable asset for any e-commerce business. Consider using Vendy Pro to enhance your online store and create a seamless shopping experience for your customers.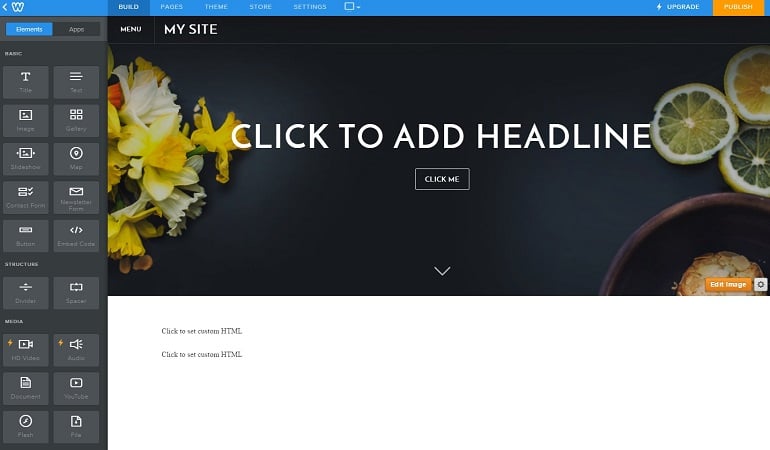 Ease of Use: HTML/CSS editor; drag and drop editing
Security: SSL; password-protected pages; DDoS Mitigation
SEO- and mobile-friendly: yes
Add-ons and plugins: Mobile Apps; App Center
Customer Support: support via email; chat and phone
Pricing: from $0 to $25
Weebly is definitely one of the most popular and hyped website builders these days with lots to offer its users. Newcomers with no experience in website building won't have problems at all. This platform is very easy-to-use. You can build an awesome layout with the simple drag-and-drop function within hours. Weebly has its own app market, allowing you to connect tools for ecommerce, marketing, social media etc. You can connect to your favorite app in just a few clicks, thanks to its unsophisticated interface. Remember how I mentioned the marketplace in Concrete5? Compared to Concrete5, things are much easier!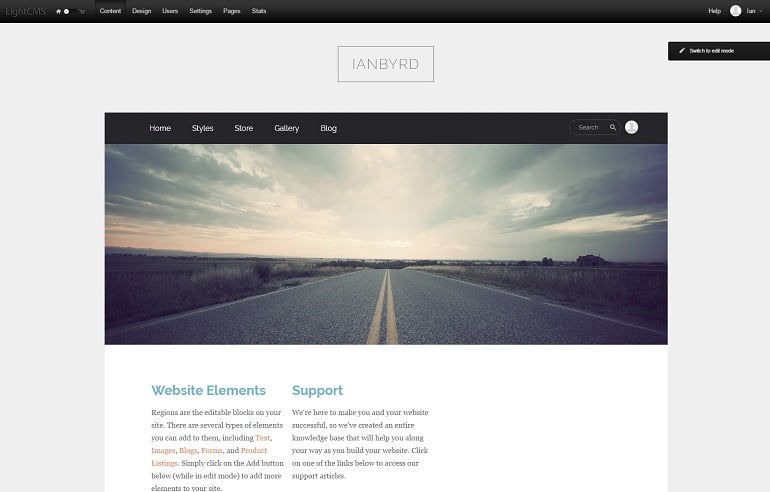 Ease of Use: WYSIWYG editor; HTML editor; automatically saved drafts; drag and drop
Security: captcha; email notification; permission control
SEO- and mobile-friendly: yes
Add-ons and plugins: eCommerce mode
Customer Support: email and Twitter support; ticketing system
Pricing: from $19 to $99
LightCMS is another solution for creating and managing a website in one place. This platform has a pretty intuitive interface with the switch button on the top. It allows you to open the store control panel with sections for orders, customers, products and product listings. There is also a "members-only area" called Users, where your website visitors can create an account with the appropriate permission level. The website manager of a website powered by LightCMS has access to all its stats. You can view different statistical data on your website traffic via diagrams. LightCMS also provides up-to-date hosting. Thus, you won't be able to transfer your website data anywhere else.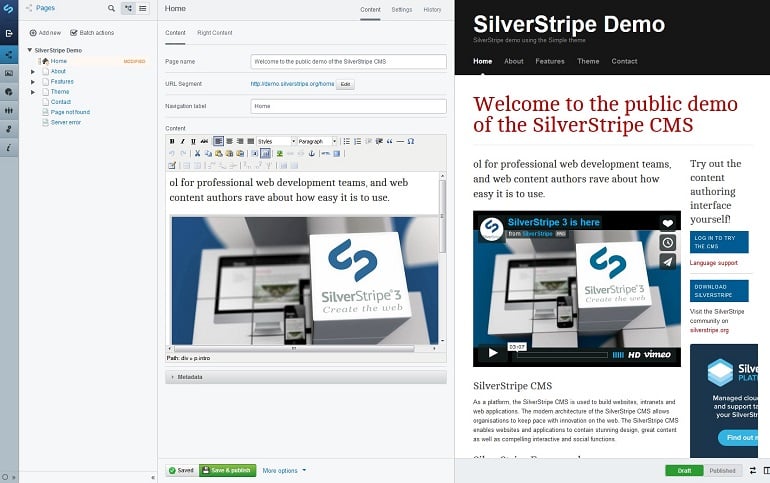 Ease of Use: WYSIWYG; drag and drop file uploader
Security: access control, secure coding, permission
SEO- and mobile-friendly: yes
Add-ons and plugins: add-on repository
Customer Support: chat with team
Pricing: from $300 to $3,250
Another CMS that requires no skills in HTML coding is SilverStripe. This web building platform has a pretty cool media editor that is totally user-friendly. The drag and drop file manager will help a user to fill his or her own website with personal content in no time. SilverStripe is also attractive for professional web developers. With this open source platform you also get SilverStripe Framework, allowing its owner to build web applications for his or her own CMS. This company will not just build a website for you, but do research, create a strategy, provide business analysis, copywriting services, A/B and usability testing and more.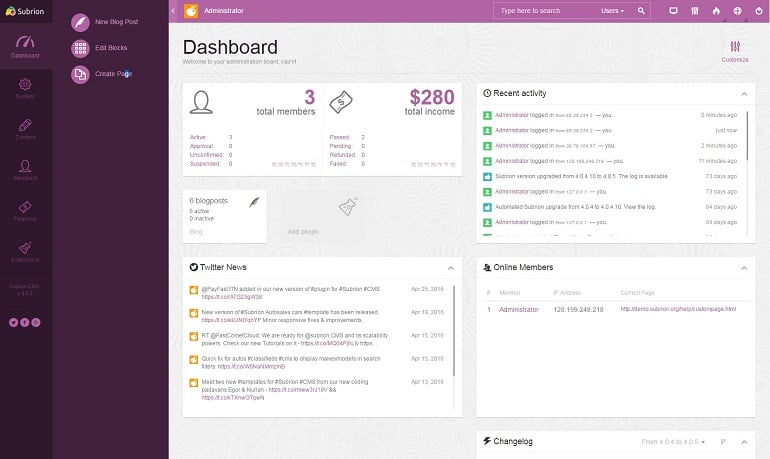 Ease of Use: WYSIWYG; drag and drop
Security: permission management
SEO- and mobile-friendly: yes
Add-ons and plugins: plugin market
Customer Support: pre-sales live help chat
Pricing: from $0 to $299
Subrion is another open source CMS with an integrated framework API that will help anyone to create their own extensions for their own website with code. Subrion offers a lot of free content, including applications and templates. If you have enough money, you can buy premium content. There are several packages, made especially for target businesses. The most interesting fact is that the free content made by Subrion is the most exciting. There are a lot of web themes and extensions that you can get without any charges. Before downloading an app you can always read some feedback about it in the commentaries section.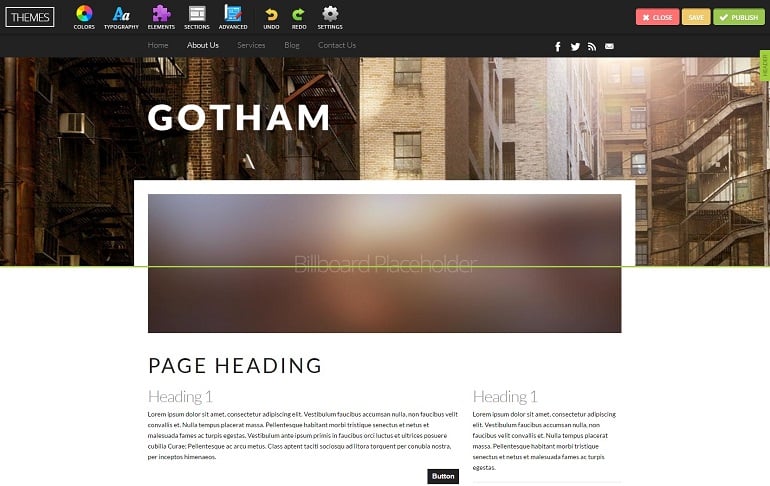 Ease of Use: drag and drop; HTML
Security: password protection
SEO- and mobile-friendly: yes
Add-ons and plugins: social plugins, app marketplace
Customer Support: ticket submission; priority support for extra money
Pricing: from $12 to $20
What's so special about another drag-and-drop CMS? The platform has a simple dashboard with beautiful icons, including not only tools for design customization and layout pre-sets, but HTML, CSS and configuration editors for professionals to write their own code. In SnapPages you can also manage your personal blog. Write articles and post them through the Dashboard. The pricing offered by this company is really good. There are two plans: Pro and Dev. The Dev plan includes all Pro features plus priority support, multiple account management and more. Users are charged once a quarter.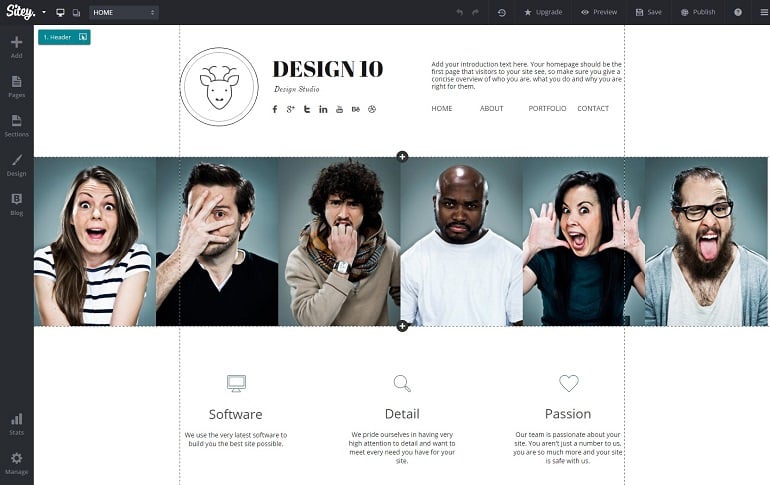 Ease of Use: Drag & Drop Editor
Security: password protection
SEO- and mobile-friendly: yes
Add-ons and plugins: Social Booster; Email Campaigns
Customer Support: Tech and Billing support; available 24/7 via email/phone
Pricing: from $0 to $16
"Florida's favorite online website builder" is a good fit for non-professionals to start an online business and run it via their own web browser. Becoming a Sitey customer, you will be provided with free domain and hosting services. The traffic stats are available on the dashboard. For extra money you will be able to promote your website via social media and email. With Social Booster you will get a social inbox, automatic publishing etc. Email Campaigns will help you to create awesome newsletters with drag and drop functionality and original email templates.
Conclusion
When you try to find out what CMS is the best, after some research you will realize that there is no such thing. Each system has its own positive and negative features. The only way to figure out what platform would perfectly fit your business, is to first determine what your needs and intentions are. Most of the CMS developers provide a free trial version. Why not try out some different CMS platforms before you settle on one? This is the easiest way to establish whether a specific platform meets all your needs.