Web Design Resources For Web Designers
The web design industry is always changing and web designers need web designer resources to stay up-to-date with the latest changes and trends so that they can create stunning and beautiful websites and designs. Whether you are a new, aspiring or established web designer, having access to the right resources can greatly help you be more creative and more productive. This article will introduce you to some great web design resources.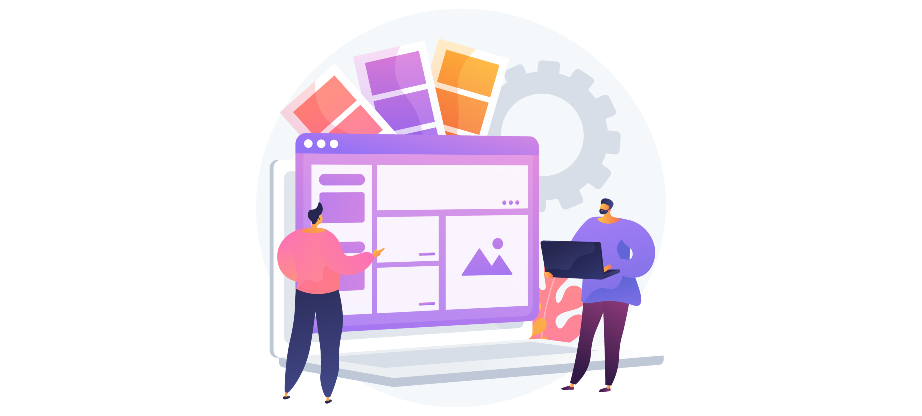 Inspirational Websites For Web Designers
One of the types of resources that are really helpful for designers, from aspiring to established designers, are sources for inspiration. Having your curated collection of inspirational resources is a must for a web designer.
Behance
Behance is a creative hub where designers showcase their designs, portfolios, websites, photographs, architecture and more. It has a vast collection of visual designs that you can use for inspiration in different areas of design. It has a nice user-interface and a search feature that lets you find what you are looking for with its search filters.
Behance also fosters a sense of community among its users and encourages engagement between creators and their audience. Also, the integration of Behance with Adobe Creative Cloud adds an extra layer of convenience for designers who use Adobe's suite of tools. This integration with Adobe's Creative Cloud enables designers to effortlessly update their portfolios and projects directly from Adobe software, helping make them more productive.
Dribbble
Dribble is an exceptional online platform that caters to designers, illustrators and other creators. Similar to Behance, it focuses on providing designers with a platform to showcase their work and for designers to use as inspiration for their creative works.
It also has a diverse community of designers and artists and encourages engagement between designers and creators and their audience. It also showcases not only designers' completed projects, but also their works-in-progress, providing viewers with a glimpse into the creative process.
Awwwards
Awwwards is the premiere website for showcasing websites. It has an incredible curated collection of outstanding websites. Every website that is featured showcases a mix of creativity, functionality and friendly user experience that pushes the boundaries of the latest trends.
Awwwards.com's user-interface is intuitive and visually engaging, making it easy to explore and discover different design trends, styles and concepts. The search feature enables users to find specific styles, industries and design elements to help designers find inspiration for their designs.
Design Tools And Software
Every industry has its own set of tools and resources that are particular to that industry, and web design is no different. One of those sets of tools is software for creating and editing graphic designs. This list of web design software lists some of the premiere and well established products in web design.
Adobe Creative Cloud
Adobe Creative Cloud is the premiere suite of design tools for designers hands down. Included in the Adobe Creative Cloud is Photoshop and Illustrator, which almost every designer and even aspiring designers have heard of, and for good reason. Their suite includes software for everything design related, from graphic design, photo editing, video production, web development and more.
Some of these software tools are Photoshop, Illustrator, InDesign, Premiere Pro, After Effects, XD, DreamWeaver and more. While there are free alternatives to some of these tools, many design professionals choose to go with the Adobe Creative Cloud suite of software because they allow designers to be more creative and productive compared to other design software.
Photoshop
Photoshop is the premiere image editing and manipulation software. It has an extensive toolkit, encompassing layers, filters and advanced retouching options.
Illustrator
Illustrator is the premiere tool for creating vector graphics. It lets you create and design logos, icons, infographics and other scalable graphics with precision. Vector graphics are scalable and maintain their quality across various devices and sizes.
Premiere Pro
Premiere Pro is Adobe's video editing software for editing video. It allows editors to applying effects and to piece together footage to create engaging videos on multiple platforms.
After Effects
Adobe After Effects enables creators to add motion graphics and visual effects to their videos. It has a library of powerful animation tools and effects which lets its users make visually compelling videos.
Adobe XD
Adobe XD is more than just a prototyping software. It is dedicated to letting designers create interactive prototypes, wireframes and user-interfaces. UX/UI designers use it to create seamless, user-friendly experiences for users. It bridges the gap between functionality and aesthetics.
Figma
Figma is an alternative to Photoshop when it comes to creating prototypes, which is part of Adobe Creative Cloud's software suite. It is a cloud-based prototyping tool, this means that it is accessible across all platforms and devices and also that there is no need to download or update software.
Some of the other key features of Figman are its real-time collaboration, live prototyping, component-based design, live prototyping, version and design history and integration and plugins that extend its functionality.
Affinity Suite
Affinity Suite is a cost-effective suite of software that mainly offers three alternatives to Adobe Creative Cloud's Photoshop, Illustrator and InDesign. It caters to the needs of photographers, illustrators and graphic designers by providing a wide range of tools and functionality.
Affinity Photo
Affinity Photo is their photo editing software. It is geared towards photographers, illustrators and graphic designers and provides a rich array of tools and functionalities. It offers non-destructive editing capabilities, ensuring that your original image remains intact, allowing you to edit your work as you like, without having the fear of losing your original document.
Affinity Designer
Affinity Designer is a vector graphics software that is geared towards illustrators, logo designers and graphic artists. This application lets you create vector graphics that are scalable and retain their quality.
Affinity Publisher
Affinity Publisher caters to layout designers, publishers and anyone else who is involved in producing print or digital content. It offers a range of tools that allow you to create professional-grade layouts for websites, magazines, brochures, books and more.
Sketch
Sketch is an established software for creating vector graphics that has all of the features and functionalities to create vector graphics and icons. It has an intuitive interface and features like the Pen tool, Bezier curves, Shape tools, gradients and fills, the Layer Style panel and more.
Code Editors
Code editors are used by developers, as well as many designers. They allow developers and designers to create, edit and manage their source code, and many also allow designers and developers to do so visually as well, streamlining the process of creating apps, websites and designs.
Visual Studio Code (VS Code)
Visual Studio Code is a popular, free and open-source code editor developed by Microsoft, which supports a wide range of programming languages. It has a large number of extensions and provides features like debugging, syntax highlighting, version control and more.
Notepad++
Notepad++ is a free, lightweight and fast code editor that comes with Windows. It offers syntax highlighting for various programming languages, tabbed interface and a wide range of plugins. It is simple to use and get started with.
Brackets
Brackets is a free, open-source code editor that was developed by Adobe, primarily aimed at web development. It features live preview, inline editing and a quick edit feature for fast HTML and CSS editing.
Dreamweaver
Dreamweaver is Adobe's software for designers and developers that lets them create responsive websites and applications. Dreamweaver's WYSIWYG (What You See Is What You Get) design mode allows users to create web pages visually, making it accessible to new and experienced developers. It also offers a code editor with syntax highlighting, autocompletion, code suggestions and more, which makes it suitable for both visual designers and those that prefer to code.
Sublime Text
Sublime Text is a lightweight and fast code editor. It popular among developers and even though it is not free, It does offer a free trial version and offers a search and replace feature, split editing and an active plugin environment.
Free Photo Download Websites
Taking pictures and editing them takes time. Luckily, there are websites where photographs are shared for the public to use. This is a short list of some of those websites.
Unsplash
Unsplash is a popular website that has a large collection of photos that are high quality, royalty-free images for both personal and commercial purposes. The photographs are contributed by photographers from all parts of the world. It has a search function that makes it easy to look for photographs.
Pixabay
Pixabay is another popular website with a large collection of photographs. The photos and images on the website are usually exceptional in quality and are available under a Creative Commons CC0 license, allowing for unrestricted use.
Pexels
Pexels is one of more popular websites for free photos. It has a diverse collection of high-resolution photos that it curates from different sources and other users' submissions and other photography websites. The photos are on the website licensed under the Creative Commons CC0 license.
Free Icon Download Websites
Icons are another web design resource that takes time and effort to create and design. Luckily, there are also many web design resources where icons are shared. This list is only some of those websites that are resources for free icons.
FlatIcon
Flaticon is one of the websites with the largest collection of free icons, including the following formats, SVG, PNG, EPS and PSD. Some of the icons offered may require you to give attribution. The website's search filter makes it easy to look for different types of icons.
IconFinder
Iconfinder is a website that provides a large mix of free and premium icons, although some of their icons are limited in size and usage. You will want to check the license of each icon that you download and use.
Freepik
Freepik provides many high-quality, free web design resources, including free icons. The quality can vary depending on the contributor, as well as the license usage of each icon can vary.
BestWebDesignFreebies
BestWebDesignFreebies offers free icons with no attribution required under a Creative Commons license. They are free to use for both personal and commercial uses with no restrictions and are offered in SVG and PNG formats. Its blog style and search function lets you easily search for whatever icons that you are looking for.
DownloadFreeSVGIcons
DownloadFreeSVGIcons is another great resource for free vector icons that do not require attribution and are free to use for both personal and commercial use under a Creative Commons license.
Conclusion
There are many great resources for web designers that inspire them, help save them money, time and effort and that help to make them more creative and productive. This article covers only a few of many web design resources out there.