How To Accept Bitcoin Payments On Your WordPress Website
Digital currencies have become a rather popular medium of exchange nowadays. On the one hand, it is a relatively new and not completely tested form of money. On the other hand, due to its flexibility, it is accepted in various types of business. The first cryptocurrency was Bitcoin. Although more and more currencies appear and are used for different transactions, it still remains the most attractive and unique. The main question for the majority of users is how to accept bitcoin payments.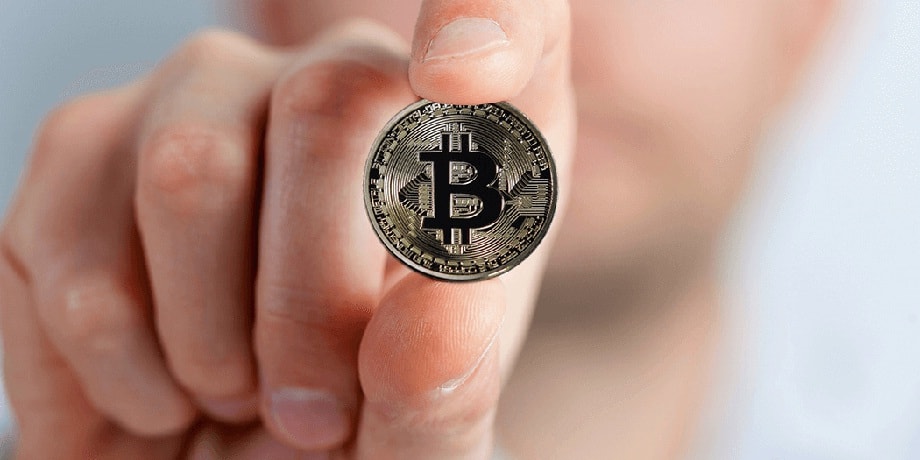 Pay With Bitcoin: Benefits
Bitcoin payments are very convenient both for businesses and consumers:
as they are digital, these payments are transferred directly from one person or organization to another one. It means no third party like bank is involved in transaction;
the process is very fast and secure;
these payments can be received from anyone in any corner of the world. Not all payment methods work all over the world. In this case, an opportunity to pay with Bitcoin really facilitates the process of trade;
it is cheaper to conduct Bitcoin transactions than to transfer money, using the services of any bank.
Therefore, accepting Bitcoin payments can greatly contribute to the development of any business. If you want to offer more opportunities for your clients, include this option into your methods of payment. To do this, we recommend building a professional website for your business, using such CMS as WordPress. It does not actually matter what type of business you are in.
There are a lot of top themes for WordPress that can be used to make a website for any business. However, if you specialize in providing financial services, Finance WordPress themes are at your disposal. They have all the necessary features to create an excellent and functional website for your business. Moreover, you may use them to install a special plugin that will allow you to accept Bitcoin payments. So, let us see how to accept Bitcoin payments on your WordPress Website.
1. How To Accept Bitcoin Payments: Choose an Appropriate Bitcoin Wallet
To start with, it is necessary to install such software as a Bitcoin wallet.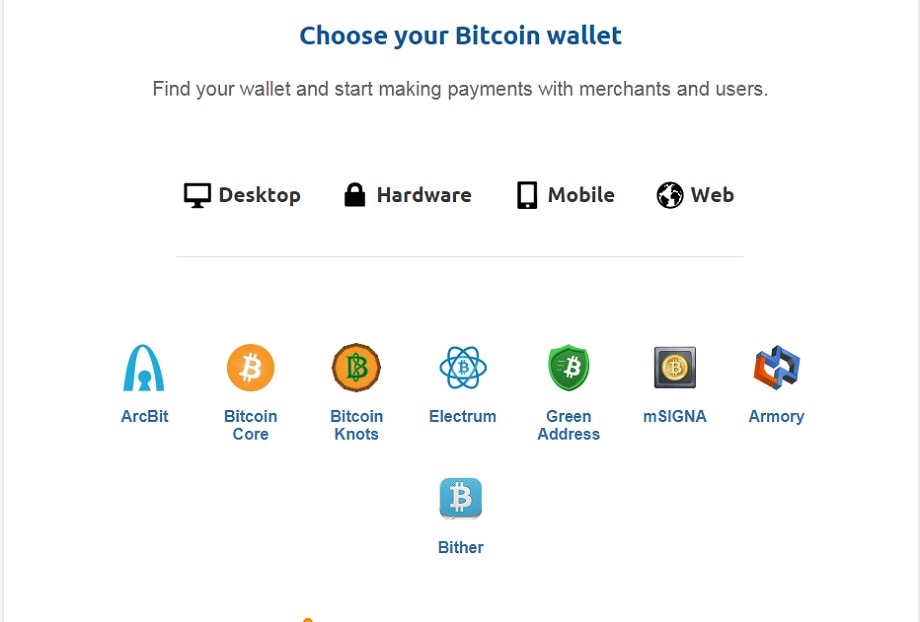 You will need it to receive or send Bitcoins, as well as keep them somewhere. It is crucially important to opt for the right wallet. There are various types of them, starting from the wallets for your desktop computer and finishing with the ones for smartphones. Thus, it is better to select the one, taking into account your either personal or business needs. Moreover, if you want to protect your money, it is worth thinking about securing your wallet. One more piece of advice: if you have decided to install it on your smartphone, be careful not to lose it!
The purpose of Bitcoin is to provide people with a universal currency that everyone can be used for different operations. Therefore, accepting Bitcoin payments may not be the only need that you have. If you want to expand your business, it makes sense to create a fully-functional bitcoin buy and sell website. The Bitcoin Cryptocurrency WordPress Theme Bitunit will be rather helpful in this case.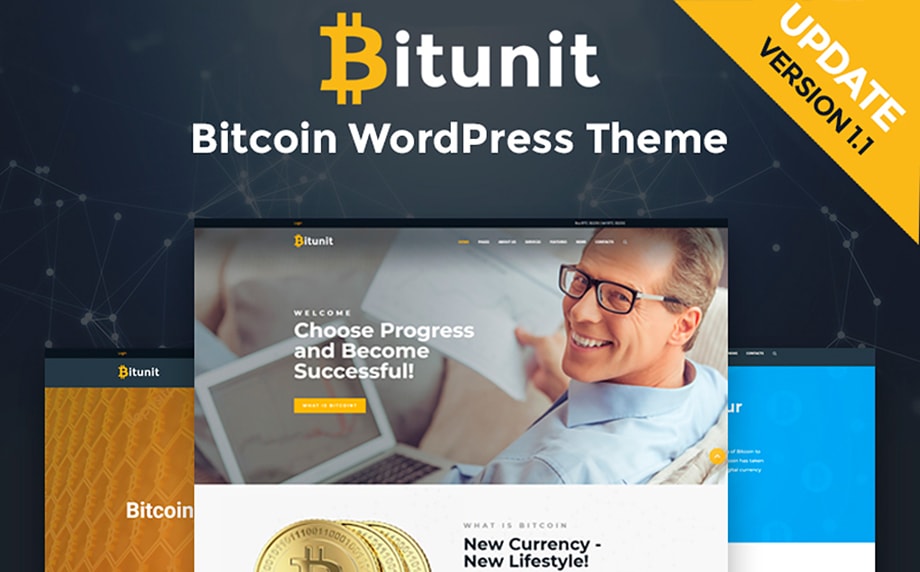 This amazing template has such a feature as a reliable and easy-to-use wallet. So, you will have a secure online wallet that you may use to work with cryptocurrency. All your money will definitely be safe. What is more, this template is fully responsive. Thus, both you and your potential clients will be able to access it, using any device. Besides this, there are perfectly developed mobile apps in the theme. With their help, you will easily manage your wallet and operate with bitcoin.
2. How To Accept Bitcoin Payments: Opt for a Reliable Digital Payment Processor Service
Once you have made up your mind and chosen the wallet, it is time to sign up with a digital payment processor. In this case, you do not need any additional software, as it will provide you with everything that you may need to accept bitcoins for your products and services. There are various digital payment processors to deal with. Some of them even offer such an opportunity as an online wallet service which is rather convenient.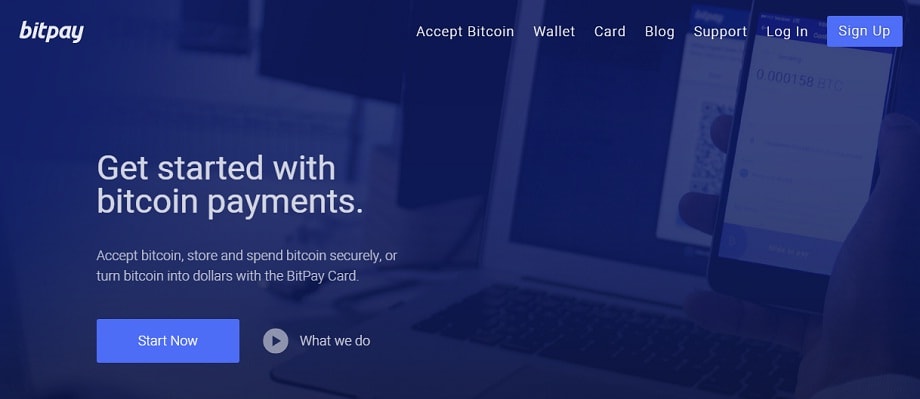 BitPay is an excellent example of such a payment processor. It is considered to be one of the largest companies that will help you process digital currency transactions. You will set up your payment gateways rather fast and easy. Moreover, it will be also possible to convert bitcoins into other currency, as well as transfer them to your bank account.
The registration process is very simple. Pay attention that while signing up for the BitPay account, you have to select the option 'Business Account'. In this case, you will be able to sell various products or provide professional services on your website. Also, this option will let you transfer the received payments to your bank account. After the registration, you will have to verify your account and you are almost ready to work with Bitcoin payments on your website.
However, besides working with Bitcoin payments, you may benefit from progressive technologies of Bitcoin and create an additional source of profit. If you want to dive deeper into the cryptocurrency sphere, Bitcoin WordPress Theme ChainBit is exactly what you need!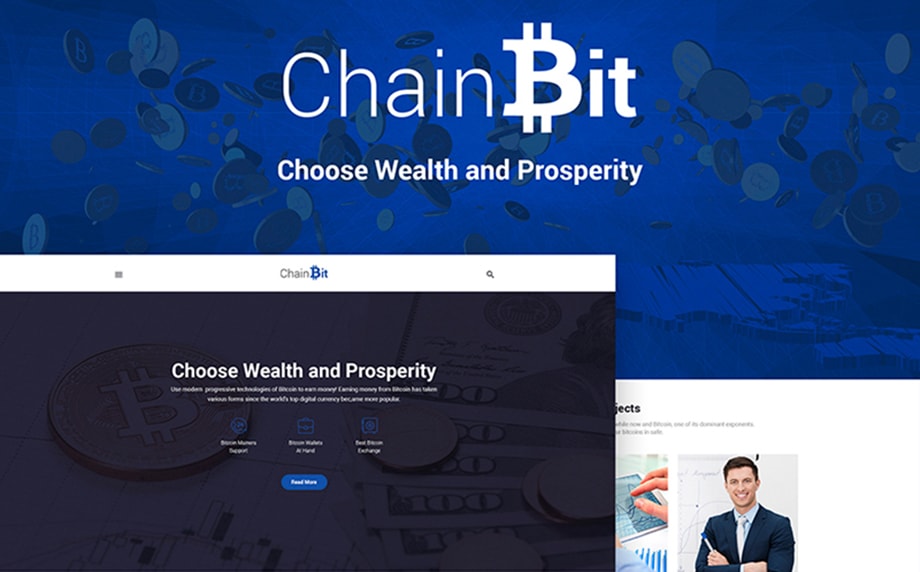 Take advantage of this template and become an experienced financial advisor for people in this revolutionary direction of investment. Learn how to earn money with Bitcoin and create opportunities for others in this profitable sphere.
3. How To Accept Bitcoin Payments: Install a Corresponding WordPress Plugin
This is the final step in the process. You have to add an appropriate plugin to your WordPress website and may start accepting Bitcoins.
There are various plugins that you can install and use for different purposes. One of the most popular is the BitPay for WooCommerce. It is possible to install it if you have signed up with BitPay and use WooCommerce for your website. At first, you should install the Bitpay plugin. The next step is to connect WooCommerce to your Bitpay account. And here you are! You are able to learn how to accept Bitcoin payments from customers based in any country.
If your business is connected with selling digital products, then the Digital Paybox Plugin is obviously your choice. In this case, Bitcoin payments are also accepted through BitPay. Having installed the Digital Paybox plugin, you will get multiple payment gateways, as well as a fully responsive payment form. What is more, your buyers will have the possibility to set their own price.
GoUrl Bitcoin Payment Gateway Plugin is a great tool for everyone in the cryptocurrency business. First of all, it is possible to download it free of charge. You have to pay neither monthly nor transaction fees. Moreover, there is an opportunity to set your prices in various currencies. This plugin lets you get payments straight to your bitcoin wallet and then you may convert them to other currencies. GoUrl Bitcoin Payment Gateway Plugin has direct integration with your website.
Of course, it will be impossible to manage Bitcoin payments without installing special plugins. However, if you want to start a cryptocurrency business, we advise using a superb business template is for creating a bitcoin website. Bitcoin Cryptocurrency WordPress Theme MineBit is a perfect template that will meet the requirements of the most demanding businessperson.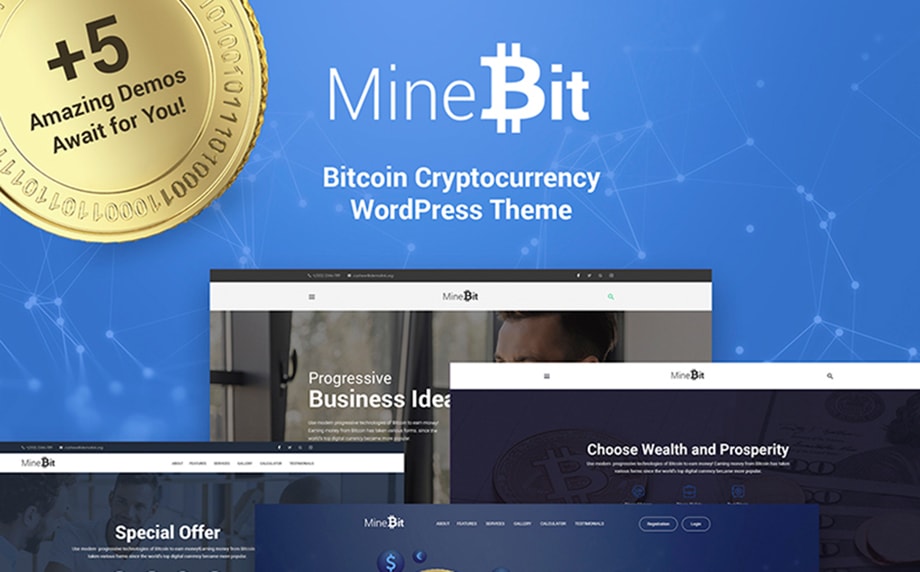 It has all the necessary features that will facilitate the process of creating a bitcoin multipage website. Moreover, you will get a lot of special giveaways, such as a fully responsive design, outstanding plugins, 4 blog layouts, and many others.
Thus, digital currencies have brought new opportunities for online business and possibilities to pay with bitcoin. It has become possible not only to know how to accept Bitcoin payments but also to start your own cryptocurrency business. As we can see, it is not so difficult to let your customers pay by Bitcoins or other cryptocurrencies. There are a lot of tools, plugins that you can use to set up the process of managing Bitcoin payments on your WordPress website. Just opt for the ones that will fulfill your requirements.
More Valuable Articles From The Web: