Ecommerce SEO Best Practices – 5 Hacks To Boost Your Sales
E-commerce marketers and entrepreneurs are always on the lookout for better and faster ways of driving more traffic to their websites, in an effort to enhance sales. It is important to have a well-defined marketing strategy that suits the channels best for your brand. E-commerce sites want maximum ROI, and Ecommerce SEO services can help them get it. Failure to invest in quality SEO can lead to a decrease in website visits and lost revenue. When done right, Search Engine Optimization can also boost conversions, engage buyers and turn them into fans for life.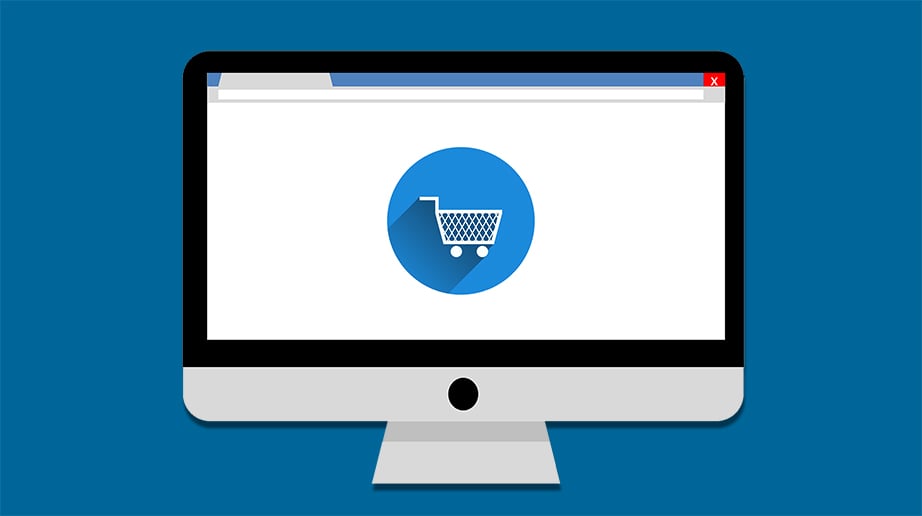 Let's explore the 5 best eCommerce SEO practices to help you achieve the e-commerce potential to its fullest:
Ecommerce SEO Tip #1: Include Schema Markups on All Product Pages
Adding rich, high-quality snippets of text that summarize the content on the webpage, help boost the visibility of your product pages in search engine results. Snippets offer additional product details to prospects who may look for your products on search engines. This tiny text can help search engines index pages and bolster the ranking of your product pages in search results.
Now, schema markups are snippets of code that go in the website. These markups help search engines index your site's pages better and make it easier for searchers to find the information they are looking for. The scheme markup for your product pages can include product information such as size, price, model color as well as ratings and reviews. They are quite similar to rich snippets, but a schema applies to the entire website in general.
Ecommerce SEO Tip #2: Make Your Site Mobile Responsive
Google indexes search results, prioritizing them with a mobile-first directive in the results pages. This means that the search engine ranks mobile-ready websites higher in the results. In fact, studies show that over 60% of all searches come from mobile devices. And this number will only increase as smartphone users continue to multiply.
Make sure your website has all the necessary and suitable Meta tags, structured data, speed and a mobile-friendly theme so it ranks higher in Search Engine Results Pages (SERPs). Keep the text short and crisp and your mobile visitors will thank you all the more for it. Remember that optimizing Meta tags can increase organic traffic to your site.
Ecommerce SEO Tip #3: Optimize Category Pages with the Right Keywords
First, use correct target keywords when creating the content of your website. These keywords should denote the words your customers use on Google. The right keywords can help navigate customers to the products they are looking for on your website. And that is the end-goal of SEO.
Category pages show a collection of similar products. For example, women's clothes can be a separate category from Accessories on an e-commerce website. Sophie & Trey is a trendy online clothing store that does this well.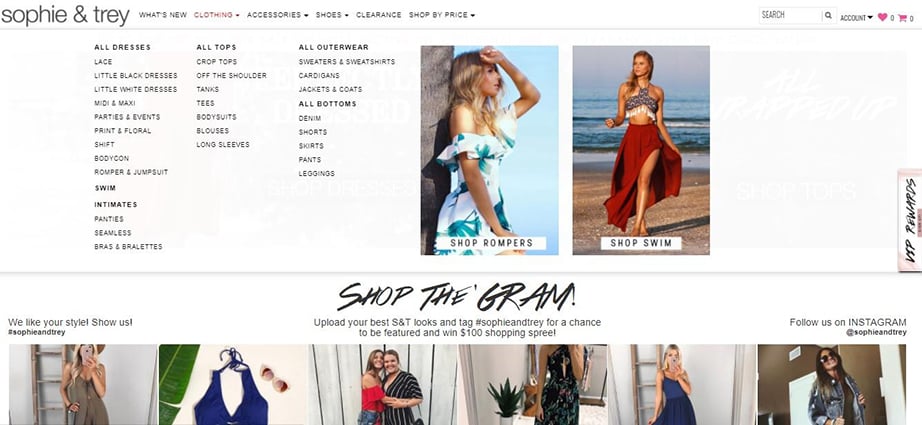 The most effective eCommerce SEO keyword approach for category and product pages is this: optimize individual product pages for related key phrases and then use all-encompassing key phrases for category pages. The keywords/key phrases are to be used in the following places on your website:
Image ALT tags HTML text can be used to define images. This is the text that often shows up when an image fails to load on the webpage. Alt tags are important for SEO because they help build up the relationship between the images and content so search engines can index the images properly.
H1 tags: <H1> can be seen in the HTML code of your page.  These H1 tags classify the headers and sub-headers, so their text stands out from the rest of the content on your pages. This is crucial for best SEO that works, helping search engines differentiate and analyze the text available on your website.
Page descriptions: Also known as meta descriptions, these 160-character snippet summarizes the entire content of a webpage. These are a part of the listings displayed on search engine results pages, so these should be written to make the reader want to click and learn more, instantly.
It is important to use the effective keywords and key phrases to boost your eCommerce SEO. High ranking category pages have an advantage because they give customers an overview of your store. They rarely know exactly what they need, and well-written category pages can give them an idea of what's available.
Ecommerce SEO Tip #4: Start Blogging
Regular blog posts will keep your customers engaged and fulfill the updated content needs of the search engines. When you offer quality, engaging and plagiarism-free blogs to the public visiting your site, you give them a reason to keep visiting you. Moreover, when the readers read through the entire blog, it also helps reduce the overall bounce rate of your website.
People get to know your brand, respect your business and that's how your e-commerce website develops at a constant rate. Etsy has an awesome content strategy, check out how their pages are well-organized and how they rank organically.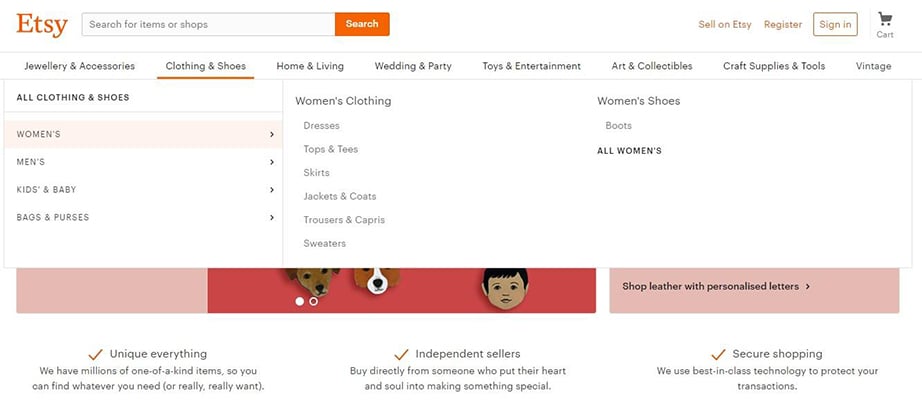 Ecommerce SEO Tip #5: Use Breadcrumbs
Search engines like Google, crawl permalinks in an effort to figure out the content of a website, making it important to use permalinks. It is important to ensure that your permalinks are clearly indentified and understood by the search engine crawler.
Overstock.com employs this structure very well: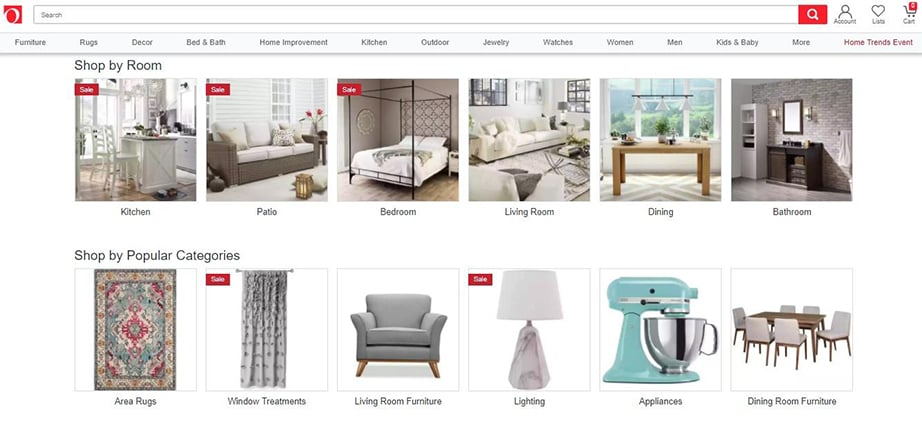 This structure lends itself very well to creating a great user experience, ultimately delivering higher rankings in search results. Also, use breadcrumbs on all product pages so visitors can better understand the structure of your site. A search engine friendly e-commerce site offers many occasions to get things right — but, if you're not vigilant, you can make awful mistakes that may end up hurting your SEO.
The Last Word: Use SEO to Strengthen Your E-Commerce
Ecommerce SEO can have a major impact on your online sales when done right. When search engine users find your site, they are more prone to buying your products and lead to more potential revenue. The SEO best practices mentioned above can help increase the value your website generates. Optimizing the e-commerce site can help you achieve many business goals altogether. But it is important to keep pace with ever-changing search engines as they update their algorithms regularly.