5 Steps to Make your E-commerce Print Shop Stand Out
Retail shops are closing down. Now is the time to make your online print business stand out from your competition. But how can you do that? In this article, we'll explain how you can take advantage of various opportunities to gain footing in this over-saturated market.
Online shopping has made life easier for people. Anytime imaginable is now just a click away. Numerous shoppers have been walking away from retail shopping for the past some years. Today, you'll find multiple shopping options as E-commerce stores take advantage of this behavioral switch.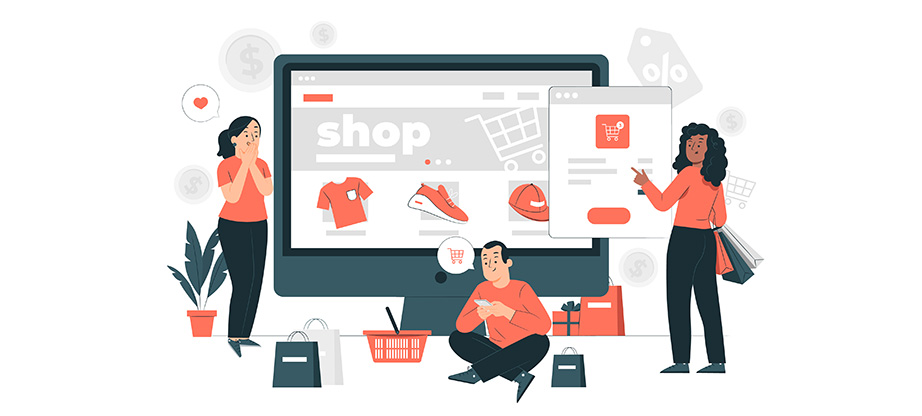 Since covid, the E-commerce statistics have been excellent. According to global statistics, the commercial printing market was worth $114.99 billion in 2020. But it is forecasted to be valued at $472.35 billion in 2026.
This can be an excellent opportunity to make your niche in the online printing market. However, customers also want to know what makes your products different from others. People look for products that have a personal touch.
So, if you want your audience to recognize your brand and its products, you need to know how to position them effectively and give a personal touch to attract customers. Below are five tips that will save your online print store from blending in among other E-commerce businesses.
Offer Customized Products
A standard E-commerce store will display products, ask for a payment, and deliver. However, a customized online store is one-of-a-kind. You can provide custom products and printing services to your customers with the help of an online designer tool.
A web-to-print store will increase customer interaction with your brand. They will be able to create, design, and customize their own products. This will increase brand loyalty.
To make your customers feel more special, you can add a comments option to the checkout page. So, they can comment regarding their designed products. This will help you know their requirements, and if they need any changes, they can re-design it further. If you find any errors in the design, you can also send them an email. This two-way interaction will showcase to your customers that your brand is on the same page as them.
Offer a Variety of Products
Step two in making your E-commerce print store stand out is to offer products that your customers are looking for. Make sure that they differ from your competition. With a web-to-print store, there is no shortage of the variety of custom designs you can offer your clients.
Instead of focusing only on one product, such as apparel designs, you can sell all printable products such as gifts, pillow covers, mugs, shoes, stationery, etc. You can offer funky, unique, and inspirational designs with customization options.
Integrating your E-commerce store with the online design tool will assist you with handling all products and orders efficiently. Moreover, the software will also manage other operations of your print store. If your store can support million of products of one kind, it can also handle variety. So, don't think about what you can sell but sell everything with a printable surface.
Watch how graphic design software works.
Provide Faster Turnaround Time
In this age and era, customers want faster delivery of their orders. You can offer customization options on delivery to your customers. For instance, provide them the flexibility of picking their own desired delivery dates or offer them an estimated date. Also, add comments, instructions, and delivery note options for your customers.
You can manage your deliveries by adding an extension to your web-to-print store. By managing your deliveries, it will help you in managing and serving more orders in less time. For the same location, customers offer same-day delivery services.
As a good gesture for your customers, you can offer multiple payment options such as PayPal, Apple & Google Pay, Stripe, debit or credit cards, etc. Adding options such as loyalty programs and reward points on payments will also boost your sales.
Create an Impression That Will Last Longer
"First impression is the last impression." We have heard this phrase being spoken now and then. But do you know that it takes on 0.05 seconds for visitors to decide if they like a website or not?
For an E-commerce store, an impression is often design-related. If they don't like it, the bounce rate of your website will increase. Visitors will leave before exploring your products. So, creating the first impression matters a lot.
You should design your online store to attract customers to buy from you. The design should be unique, and the customers should be able to view, browse and perform other website activities efficiently.
Moreover, your website must provide easy navigation for your customers, and the store design should be relevant to your brand and products. A web-to-print store will allow you to customize with just simple drag and drop functions. You can also use customizable themes present in your catalog to change your storefront's home screen or layout.
Leverage SEO for Your Print Shop
No SEO means no customers. Without your website ranking in the search engine options, your audience won't be able to find it. So, you can leverage SEO to ensure business growth and increased sales.
You need to optimize the content of your website so the search engine can show your online store or website at the top of the first page. But make sure to include relevant keywords, meta, and product descriptions. So the search engine will know what your product is about and help customers find it.
You can also hire a marketing team to boost your store's sales through SEO and paid ads campaigns. They will also help you with on and off-page optimization and other things to increase your customer outreach and brand's trustworthiness.
Conclusion
Starting an E-commerce print store opens up several opportunities for your business's growth. But the online print market is saturated, and only a brand that offers personalized products will lead. If you follow the tips mentioned above, they can provide you with a competitive edge. Only by exploring various opportunities, your business can expand.
One such opportunity is a web-to-print solution, Design'N'Buy. If you make it part of your growth journey, it will guarantee to support all functions of your store. From customizing designs to handling orders, it can lessen your burden instantly. Your customers will also be satisfied as they'll be able to customize the products themselves.
But remember that customers are searching for products like yours very often. So, now's the time to make your E-commerce print store stand out among the competition and attract customers worldwide.