Tools That Offer Free Editable Infographic Templates
"A picture is worth a thousand words." There is some tremendous amount of wisdom in these seven words. Pictures and all visual mediums of communication have the ability to break down a complex idea and convey its meaning or essence of a subject more effectively than description does. This is the reason why we all love infographics; they supply us with loads of information, all wrapped up in a sleek and stylish graphic. Contrary to the customary piles of text, infographics are highly engaging, and they provide users with relevant information in minimal time. They are easy to digest, fun to share and there is no beating around the bush. Above all, we all know that any content consumed through the visual medium has significantly a higher chance of being remembered and recalled that's why infographics also serve as a tremendous marketing tool. Thanks to this digital age there are also tools that offer free editable infographic templates, and make our task incredibly easy.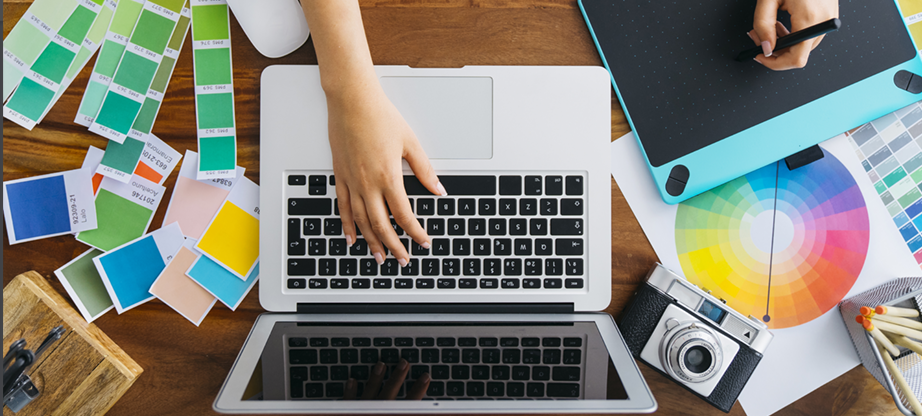 Infographics have proved to be an incredibly successful medium of communication, and brand promotion. A powerful and persuasive infographic has the ability to influence the customer's mind and slowly nudge him/her into the sales funnel.
Free Editable Infographic Templates and Tools
However, for any infographic to work and deliver its purpose; it must be created systematically; otherwise you will only end up wasting your time and resources without achieving the desired results. An infographic may appear simple, but without the right set of infographic tools; creating a respectable infographic is not easy.
To be honest, there is no better interactive infographic maker than photoshop. With Photoshop; you can literally create brand new worlds as there are incredible customization and virtually no limit to what you are able to do. The only flaw of photoshop is that it consumes a lot of time and requires an expert skill level to create a good infographic. The good news is that there are dozens of affordable and free interactive infographic makers that can help you to create even attractive and helpful infographics.
Here are some of the best and top leading infographic tools which offer free editable templates.
Canva
Canva is by far the most popular interactive infographic maker for creating beautiful and eye-catching designs. The tool is built by keeping in mind the importance of the thoughtful approach to graphic design. Due to the number of free editable infographic templates offered by Canva, it is one of the most widely used infographic tools.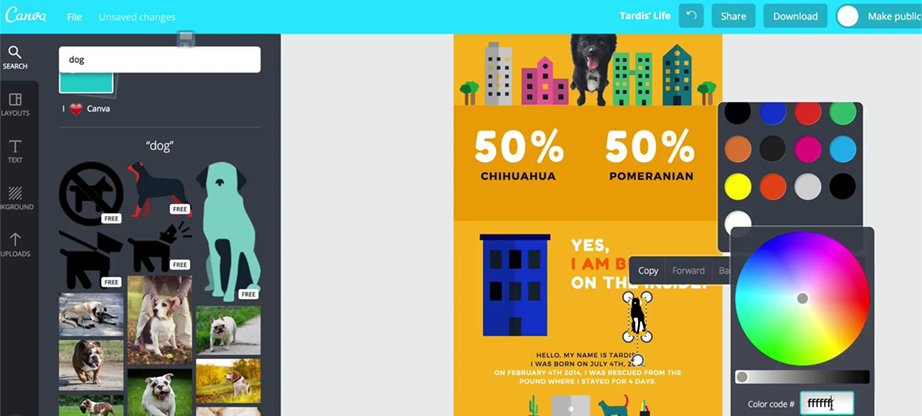 Here are some of its highlighting features;
Canva houses a vast library of icons, images, and fonts along with countless options, millions of images and countless templates to choose from.
The tool makes an effort to help the user create what's on their mind, with step-by-step guides through the entire process such as choosing appropriate colors and typefaces.
It also gives you the opportunity to compare and contrast different numbers or make track changes across a given period.
If you want to know how your visitors react to colors have a read at this article, Colors and Emotions in a Website Design which beautifully explains all the details.
Visme.com
Visme.com is the right pick as an interactive infographic maker for you if you want to create an infographic that speaks visually. Visme offers a great presentation along with sophisticated features that can give voice to visuals.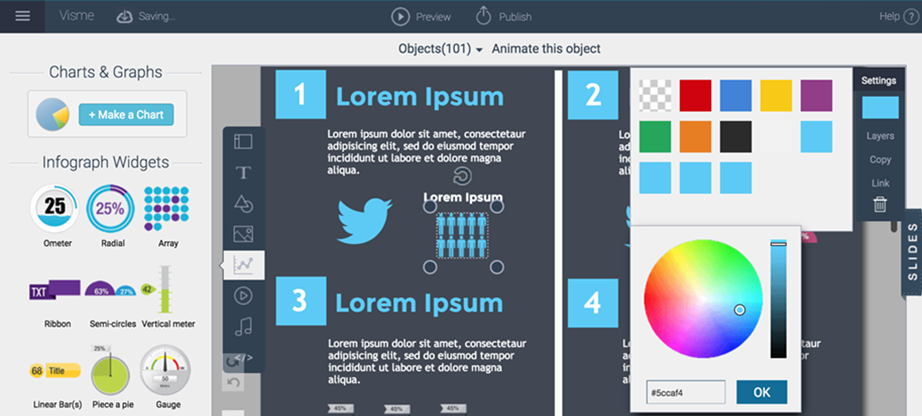 Here are some of its accentuating features;
Visme offers hundreds of professionally designed free editable infographic templates and over 20 beautiful charts, 100+ fonts and many graphs and tables.
You can either create your own layout by mixing and matching the pre-designed content blocks from the built-in library or you can also build your own library of content blocks so that you are able to reuse sections of your design in future projects.
The best thing about Visme is that you can add or record audio and also embed maps, surveys, polls and even CTAs by inserting links and creating pop-ups.
Infogram
If you are on a search for a comprehensive yet clean and easy to use infographic tool; then Infogram is the right choice for you. Infogram offers dozens of basic templates that can easily be customized with the relevant statistics and graphics.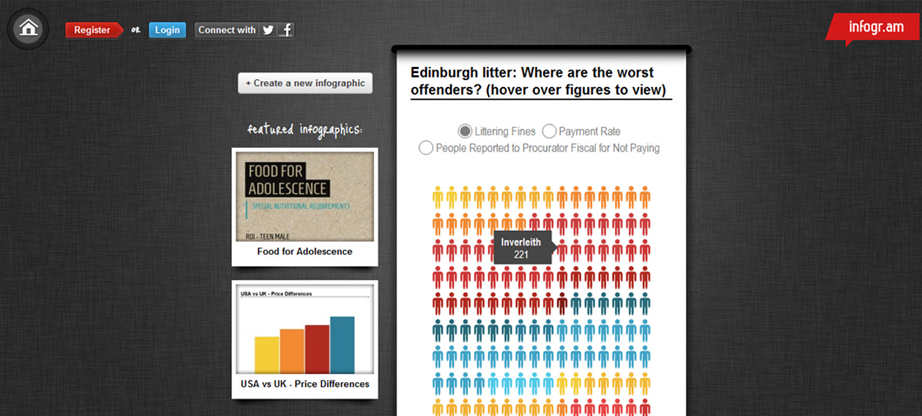 Here are some of its powerful features,
Infogram offers more than 500 maps and over 35 interactive charts to help you visualize data, including pie charts, column tables, bar graphs, and word clouds.
Infogram offers easy drag-and-drop editor. The intuitive, lightweight data editor helps you easily edit colors and styles, add icons, and set display options to make your data shine.
You can create responsive infographics that looks great across all devices. You can also add them to Facebook Instant Articles, publish them on Medium, or use the Infogram WordPress plugin.
Snappa
Snappa is primarily a graphic designing tool, however; it offers a free interactive infographic maker as well. It is ideally suited for beginners and non-designers.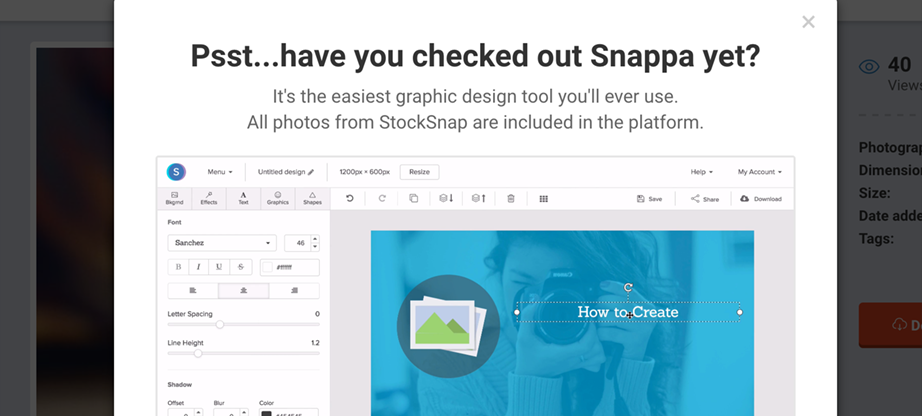 Here are some of its outstanding features,
Snappa offers preset infographic dimension that is optimized for social sharing across the web
The drag and drop functionality helps you create custom templates to make infographics that truly depict your brand.
Access to 500,000+ of high-res, totally not cheesy, 100% royalty-free stock photos available in the built-in library.
Add some polish typically reserved for professional graphic designers along with customizable graphics, shapes, and text
You have the opportunity to download your infographics as a web-optimized JPG, high-res PNG, Retina JPG, or Retina PNG
They also offer free editable infographic templates.
Easel. Ly
Easel.ly is another top animated infographic maker that offers dozens of easily customizable templates. It gives you the opportunity to upload your own graphics which you can be positioned very easily.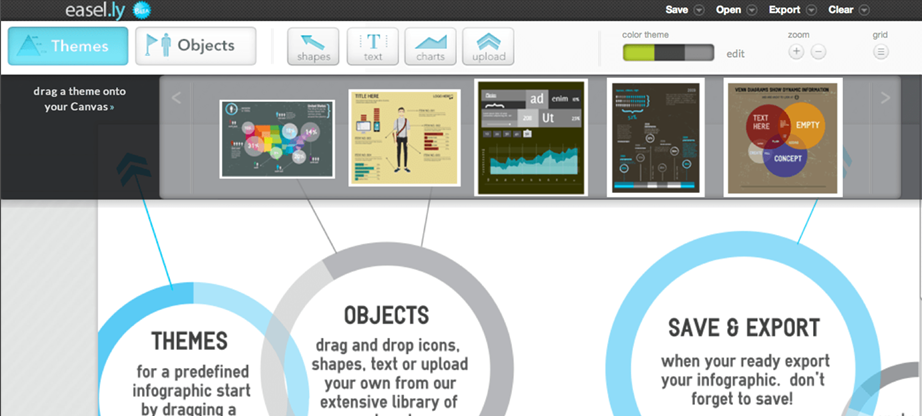 Here are some of its top of the line features,
An instant access to a larger library of free editable infographic templates available
You can also create your own customized library of icons, charts, illustrations, and images
You can download your infographic in every major format, share it, embed it on a web page and you can also invite another team member to edit it in this animated infographic maker.
Conclusion
Several marketing studies indicate that infographics are becoming increasingly popular and is an effective communication medium so it should be an essential element of your marketing mix. However, in order to utilize the full potential, you need to be systematic in your approach and use the right interactive and animated infographic maker to make sure that the content is quality with a great design and faster turnarounds.