Your Church Website Can Look Better With a Couple of These Secrets
A year ago in September 2013 we published a post on 'How to build a church website from a template'. The year passed quickly and now we'd like to refresh the topic with some new ideas.

We assume you already run a church website. We also suppose that you want to improve it and to make the web pages stay up to date in accordance with changeable online trends. Every month hot industry news and crucial programming updates spread all over the Internet. Whether you like these changes or not you have to react to them.
We hope this article will help you refresh your religious website with one of church website templates, so that church members feel comfortable online.
Professional Images Only
In general web design is a well developed industry with high standards of quality. However, we still can find a lot of sites using bad graphics. Small photos resized to a background format, too much compressed, pixelated or unfocused pictures can do a lot of harm to the very best design.
Inexperienced site owners with a lack of understanding of online culture may not value the importance of professional images. Some think that the information they spread is so much important that other things pale beside that. In practice nobody cares about what you're trying to spread. When web pages look unprofessional the information they display doesn't look trustworthy as well. Most web surfers will leave your site after just viewing unattractive pictures.
Quite often church websites use image sliders at the top of home pages. The technique is not new but still effective and appreciated by users. As long as such rotators are heavy on web pages they require a light design all around, that means thin fonts, clear background, minimum of additional animation. Minimalism is trendy, so you may try to apply its elements to your project.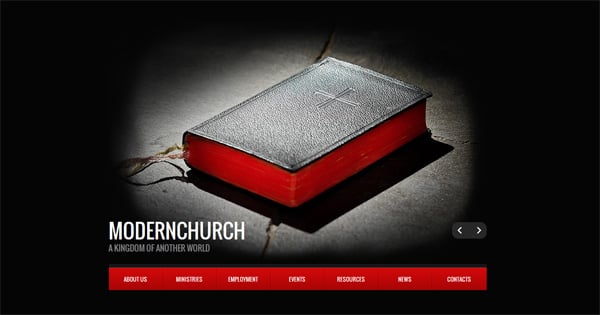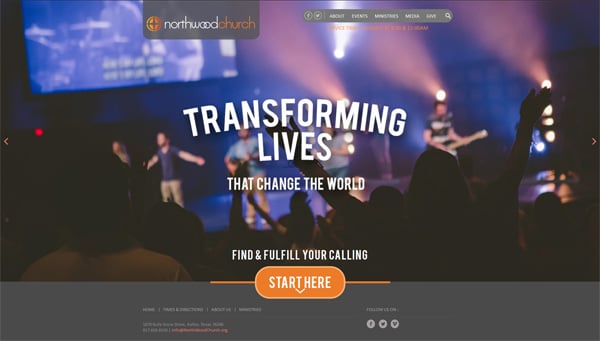 Calm Down with Sermons at the Home Page
Please note that not all your site visitors support the religion you propagate. There may be people with indifferent or hesitant religious believes. Such attenders may enter your site just to know more about the community. If getting too many 'catching' slogans and appeals people can interpret them as aggression or obtrusiveness. Both impressions are fatal to you.
Limit yourself with 1 or 2 call to actions at the home page of the site. That will be more elegant and effective than tones of assurances.
Follow the Trends
The web is changing every time. What was considered to be great a year ago is now forgotten. If you're in the know of the latest web design trends you've probably heard about flat design, ghost buttons, grid layouts, full screen background photos and so on. These design styles and tools are widely spread in 2014. Below we've collected some church websites that watch out for web updates and thus look really cool.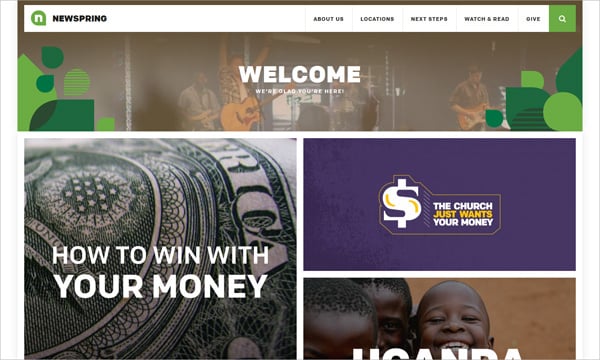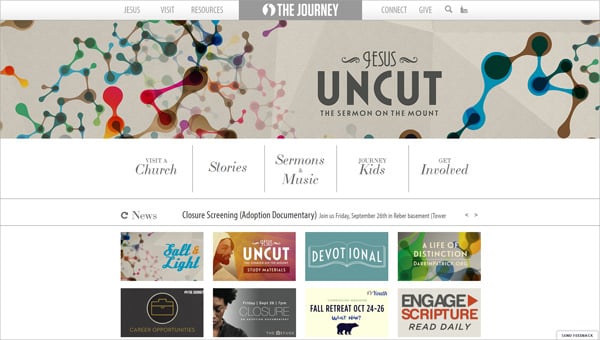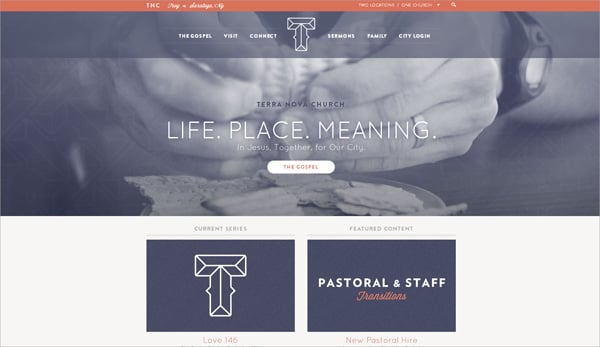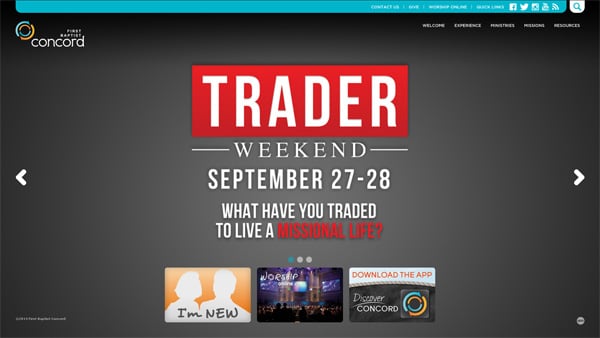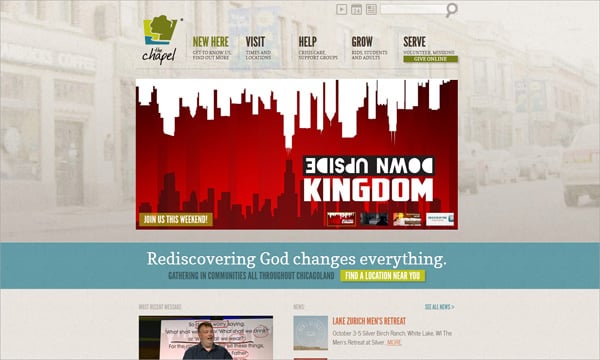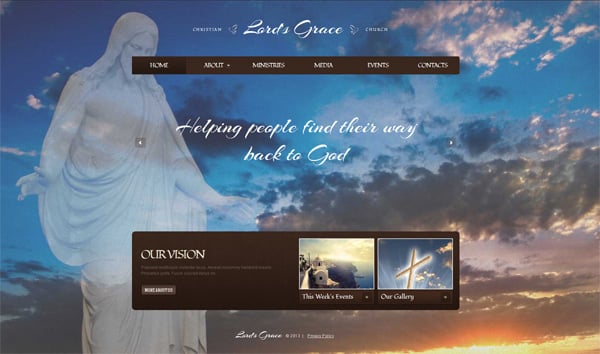 Please note that you don't have to update your site every time a new trend appears. However, it's good to know what's popular on the web to be ready to refresh your design whenever it is needed..
Be Aware of Vivid Colors
It is not a secret that some colors are good for the web and others should never be used online. There are also fatal color combinations that make any design look awkward. You can read more about color combinations from Hell in one of our earlier articles. If you have at least some experience in web design you're probably familiar with this concept. But if you're new to designing for the web you may need some help. Free color generators may be of a great use, so choose the one to try if you're planning a massive redesign of your church website.
Play with Fonts
If your body text is too small or too large it's not good because visitors can be confused about that. However, when huge typography is used in titles or over image sliders it is commonly appreciated. Different text sizes and type faces work good in terms of general readability and texts accessibility. It is especially true if the home page is graphics-oriented with a limited use of text.
Below you'll see some religious websites and templates that accentuate attention on short generic phrases.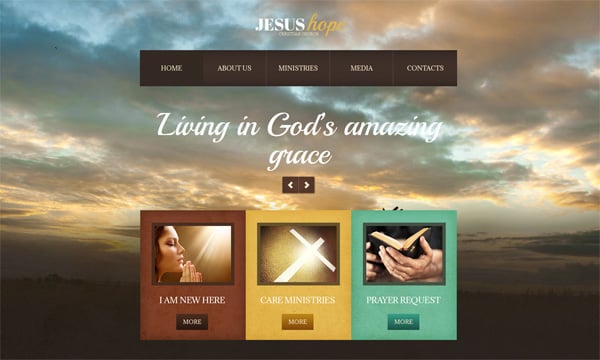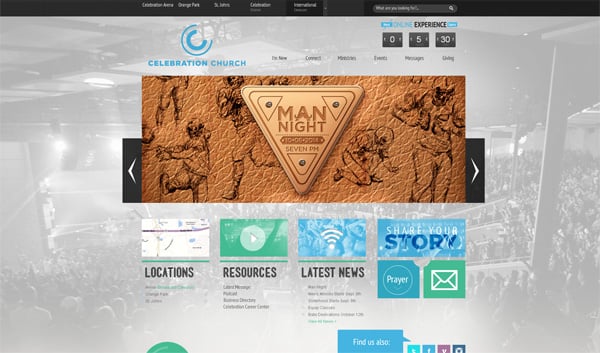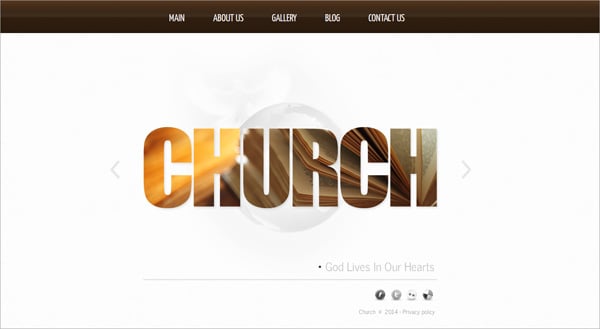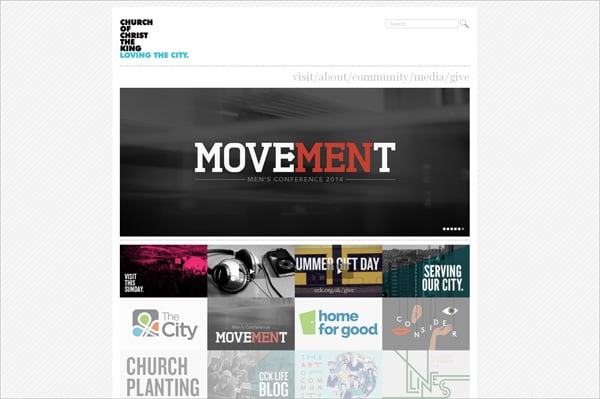 Be Mobile-Friendly or Responsive
Developers can argue about what's better – responsive or mobile-friendly layout, but the truth is that anyway you need to choose one of them. It's the necessity of the time.
Do you know that in 2014 8% of a person's day is spent looking at a mobile screen [source]? That's an excellent opportunity for you to connect with believers who are looking for churches online as well as those church members who want to stay up to date.
Take a look at the following City on a Hill website. It is easily adjustable for any screen resolutions so users can find out the latest information on the go.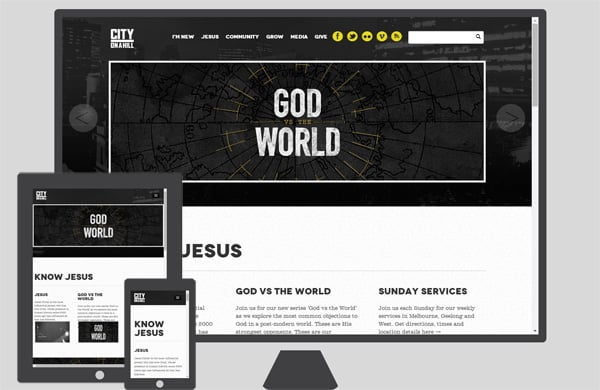 Conclusion
Make sure that your website is absolutely good looking and fits it's main objectives, i.e. displaying church news and communicating with parishioners. If there are more aims you'd like to achieve optimize the entire layout to reach them as soon as possible. We hope our article will help you on this way.